When it's coming to gaining a page ranking in search engines, then blog commenting is preferred and used as a best way to optimize a website. Blog commenting is an area where visitors leave a comment about each post, blog commenting plays a critical role for bloggers to make their blog successful and popular. Now let's know a brief information about how blog commenting works.
Uses of Blog Commenting :-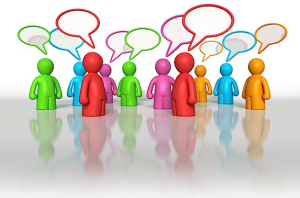 Blog commenting build a quality back links, and generates targeted traffic to your blog and improve your standard in blogging community. Blog commenting are also known as the lifeblood of the blog. In this way you can increase the traffic to your blog. Blog commenting builds a conversation, as soon as the conversation builds, it also builds a relation between you and readers which results into an increased traffic to your blog.
Blog commenting makes your blogging community interactive. Blog commenting is also a great way to expertise known within the niche, this is the main reason why the people still stick to this blog commenting technique. With the use of some plugins like comment-luv and keyword luv you can easily promote the link of you blog.
When you are searching for the places to comment, that mean you are searching for blogs in your industry not just any blogs, but the ones that should get some traffic and engagement. It's not important that they should top blogs, but they should be capable enough to engage active members and there should be significant amount of comments.
Why you should do Blog commenting :-
Blog commenting drives traffic to your blog.
Make your blog interactive.
Increase Brand awareness.
Builds solid back links.
Some tips to avoid while commenting on blogs :-
Don't spam.
Do not come across as a spammer.
Do always read thoroughly read whatever article you will be leaving comments.
Do not make comments on further which expand the discussion.
Do make sure you approach your blogs strategically.
When you start building a great relationship from bloggers by commenting on their blog, then they will start linking back to your post, re-tweeting your content, and start engaging on your site as well. And also you will get traffic from the blog owner as well as other commenter's who notice your responses and like them.
After that you can see a great trend in organic links and traffic from blog commenting.
---
Authors bio:
Hi There! It's Me Romy Singh. I work as freelance content writer and web designer you can catch me on my both blogs Geekywriter and Tutdiary.
---
If you like this post then you may like to follow us on Twitter (@itechcode), subscribe to our RSS Feed or join our Facebook page to keep yourself updated on all the latest news from the world wide web.