To Install Yahoo Messenger we need to download the file and once it is downloaded then we have to install it but it need "internet" connection. It is good if you just want to download and install the Yahoo Messenger in your system only but what about another system and may be your friend who don't have internet connection and they need messenger for some work.
So for that there is some cool tips to do that:
Step 1: Go to Yahoo Site.
Click this link to go to download page of yahoo messenger..!!
Step2: Copy Download link.
Now find download button , right click on that and copy the link address. Refer the screenshot.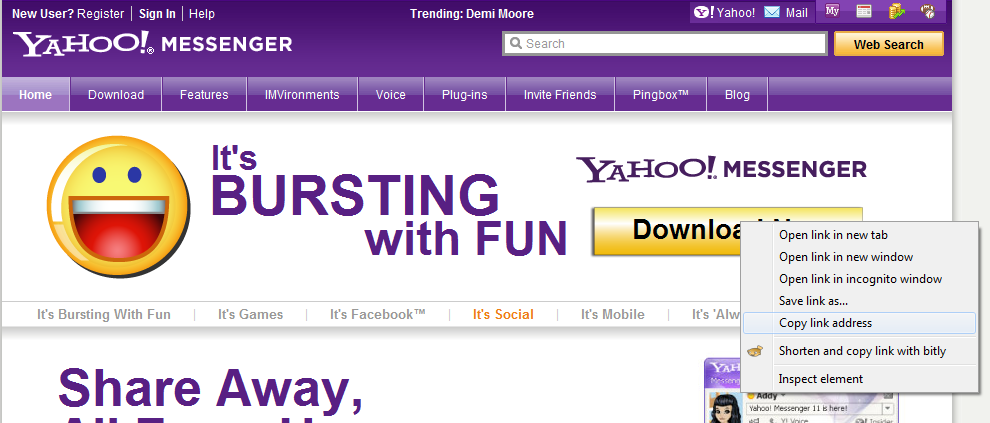 Step3: Paste the link on your browser and do some editing.
Now open the new tab of browser and paste the link that you have copied. Now link will look like this.

Now you have to edit the link. And what to add in that will be clear after referring this image.

Now have you found the change..! Yes we add the "y"  just before the msg11us.exe. Now paste the enter and your download (offline installer) will be started.
NOTE:Sometime Link is not working for some browser so don't worry just paste that in Internet download manager and download that………:)
Alternative method if above one won't work:
Now if above one is not working then you can go for this. Just download the file from the messenger site and start installation. As you downloaded the online installer file and start installation just open the "Run" box and type:
%programfiles%Yahoo!Installs
This will open the temporary file of yahoo messenger now just wait for installer to say "Installing Yahoo! Messenger" . Once you get this message from installer window then quickly open the window which you have got after running above command. In that folder search for ymsgr8us.exe and copy it for your future use.(You have to do it quickly otherwise the ymsgr8us.exe will be deleted after completion of installation).
That's all you have done this..!! enjoy the messenger and hope you would like this post.