Finding difficulties to shut down or restart computer in Windows 8? As well all know that Windows 8 doesn't have start menu. It may be different for many users to shut down or reboot there PC without Start button. But we can create our own tiles in Windows 8 so we can easily restart and shutdown our computer once we have added ShutDown tile on the homepage.
But before we get on to our tutorial, I must tell you that Windows 8 will be unique and more powerful than its earlier versions. No doubts that Windows 8 will be a huge success. If you hadn't tried Windows 8 Consumer Preview, which was released February 29, 2012, than you must try it and may help you in getting familiar with Windows 8.
Windows 8 has a new feature could Metro-style interface. It won't be like the Windows XP, Vista or Windows 7. And is designed for touchscreen, mouse, keyboard, and pen input.
How To ShutDown, Restart or Log Off Windows 8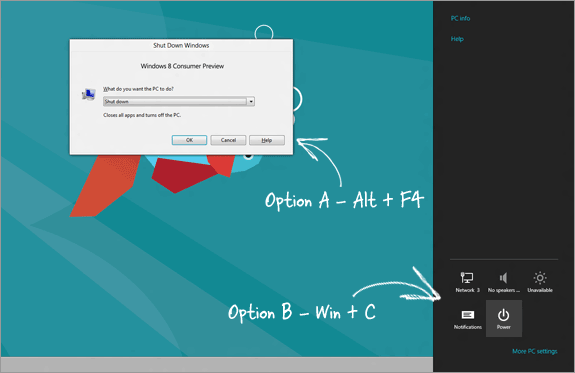 You can directly shutdown PC by pressing Alt+F4 to get shut down manager. There is one more shortcut to directly Power off your computer is by pressing Win+C and then go to Settings –> Power –> Shut down. If you are not used to shortcuts than you can create a shortcut of Shutdown directly on the home page just like other apps.
Tiles of Shutdown can be created in 2 ways. In the First Method, it is very simple as it requires only downloading a file and opening it. Whereas, in the Second Method you need to create a shortcut and will comparatively take more time than the first method. I would recommend the first method as it will take only few seconds and would create Shutdown, Log Off and reboot tiles, below is the procedure:
First Method:
1. Download createButton.vbs, which is made by Amit Agarwal of Digital Inspiration. It is a script that will create the required tiles and doesn't need any installation.
2. Open the script where you downloaded it and it will show "Created Shutdown, Log Off and reboot buttons in your Program Menu. You can now pin them to the Start Screen."
3. Check and its done!
Second Method :
It was posted by howto.cnet.com and would let you create tiles manually.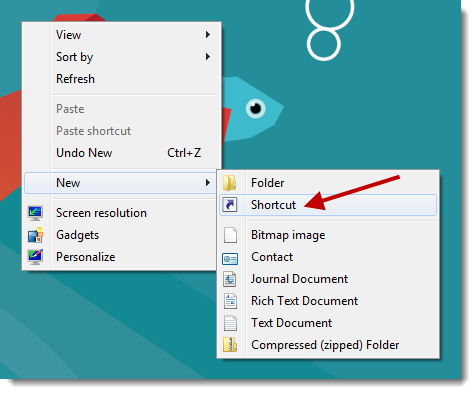 1. Create a shortcut on your desktop and right-click and then go to New -> Shortcut.
2. Type shutdown /p for to shut down and shutdown /r /t 0 for reboot. Click continue.
3. Type the required name for the shortcut and click Finish button.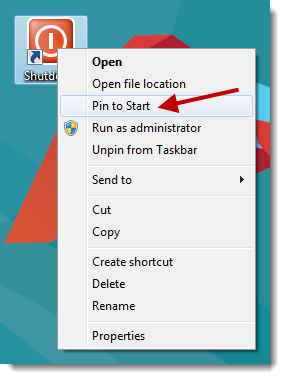 4. Right-Click on the shortcut you made just now and select "Pin To Start".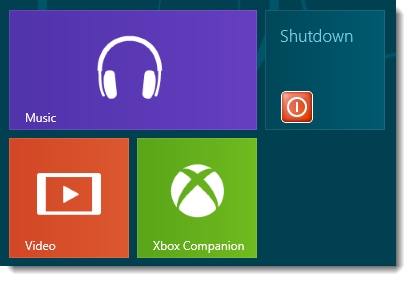 5. Verify it by going back to the start screen and done!
Shubham Gupta is a blogger who blogs about Windows,Technology. He writes on Android, Technology, Android Rooting and thesis tutorials.