Hosting is one of two things you need to have when starting a new blog. It is a place to store all your blog data, of course, hosting is very important. This is a factor affecting the development and evaluation of readers about your blog inthe future. Many bloggers lost many times to search the right hosting for their blog. They seem to have a common question is "How to choose a good hosting?".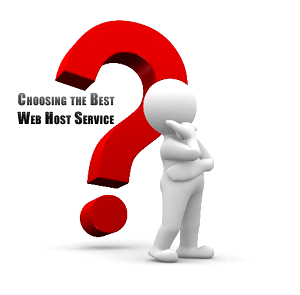 When I started to build my first blog, it was hosted by Hostable but I have some problem with this Web Hosting. It's not stable and down-time too many times. This is a very serious problem because if this situation lasts, I can lose the visitor in the future. It made me think seriously about must choose a suitable Web Hosting to building blog.
After consulting with several bloggers about hosting and consulting many articles about how to choose Web Hosting, I have found the answer. Currently, my blog is hosted by Hostgator, the best hosting provider. And today, I want to share with you my experience in choosing a good Web Hosting providers for our blog.
1. Clearly Define Your Needs
To select a right Web Hosting for yourself , you need to determine what requirements that Web Hosting must meet to build your blog, such as space storage, minimum bandwidth, the support programming languages .etc..
2. Uptime
Uptime is the first issue you should consider about web hosting providers.
When choosing a Web hosting provider, you should find out information and their commitment to uptime. Supplier really be trusted provider ensures that your web access is 24/24, the server must have at least 99% uptime.
3. Support To Customers
A further consideration when selecting a Web Hosting provider is customer support services . Professional Web Hosting provider must support for customer in 24/24, in addition to providing basic fully what you need. So you should try to check their customer service support before making decision.
4. Compatibility, Upgrades and Security
Compatibility, upgrades and security issues also are problems you must be attention. Web Hosting that you choose must be compatible and well-supported for blog platform you use. Remember, a system cannot afford to upgrade will soon fall into backwardness when today's technology development as storm. Safety information is critical for the survival of your site. Make sure that your provider will give you the secure Web Hosting, avoiding the eyes of hackers, have anti-virus program, backups and the ability to recover data in case problems occur.
5. Price
With the majority of users, the price is most important. Nevertheless, usually the amount you spend will go hand in hand with quality of service provided. You should not registration host packets in excess of your needs to avoid wasting. You should register when hosting providers have the occasion of discount or used discount code was shared by other bloggers, to save your costs.
6. Other People's Reviews
Consult other people's reviews about the Web Hosting service provider is a way to give you a right decision. Read articles review about hosting providers, or you can also open a discussion about quality of the hosting providers on the forums and blogs. I believe you will get lots of useful advice to help you choose a good hosting web provider for your needs.
7. Premium Hosting Is Better
With a Premium Hosting, you'll get more features such as large bandwidth and disk space (usually without limit), speed fast and stability, technical support very good. This will make you see the value of the money you spent to own a Premium Hosting. Only a few $ per month, you can own an unlimited Premium Hosting package. In addition, these hosting providers will as well offer other services such as: email accounts, user control panels, site builders, site statistics and many other useful tools that will make building a site much easier. That is why I and many other bloggers have chosen to build blog with Premium Hosting. Below is a list of service Web Hosting providers was rated as the best that you should choose.
Free Hosting has the advantage of ease of use, not expensive investment but are limited in terms of bandwidth, storage capacity, speed is often not stable, troubleshooting support is poor. It is only suitable for small sites, purely personal is essential. Here is a list of best Free Hosting you should choose.
With the above tips, I hope you will choose for your blog a best Web Hosting, wish you a happy day and wish you have a success blog.