iTechcode already presented you about how to add shutdown and other options in windows 8 but those was Little tricky and Those methods won't return back your Start Menu Icon. Here i found something interesting which may help the Windows 8 User's to get their Start menu Icon back in windows 8 and easy shutdown and other options as well.
If you missed that post about how to create shutdown options manually then follow the Link given below:
Read: Create Windows 8 Shutdown, Restart and Log Off Shortcuts/Tiles
"Start8" is a free software released by Stardock which is a well known Windows customization software company. They have released many Great Customization tool for windows and this is one of them. "Start8" is a freeware for Windows 8 which brings back Start button (ORB) and Start Menu in Windows 8 Consumer Preview.
How to add Start Menu Icon ?
First of All download and install the start8 software from the Link Given Below.
Link: Download start8.
Once you downloaded this just Install it on your system. As soon as you install the software, it immediately adds the Start ORB to Taskbar and when you click on it, Start Screen is shown in a mini mode which shows all installed apps by default as shown in following screenshot: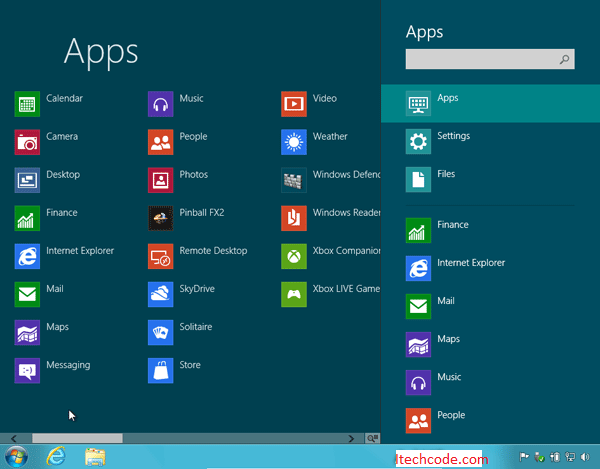 Basically the start8 adds Start ORB to Taskbar and launches the same Start Screen upon clicking on the ORB but the developers programmed it wisely and introduced a small mode of Start Screen to show Apps page by default which works similar to Start Menu.
Also when you right-click on the Start ORB, you get following options:
Show Full screen Metro Start Menu
In small mode defaults to apps page
Pick a different Start Button image
Run
Shutdown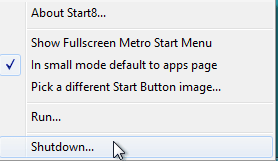 If you enable "Show Full screen Metro Start Menu" option, the Start ORB will launch default Start Screen in full screen mode instead of showing it in mini mode.
If you disable "In small mode defaults to apps page" option, the Start ORB will launch Start Screen in mini mode but will not show apps page. Instead it'll show normal Start Screen with live tiles.
Hope you enjoy this article. Do share it as much as you can so that other will know it too. Good Luck from itechcode.!