Total Security 2012 is an advanced security product from the popular antivirus company Bitdefender, with different user connects for customers of different technical levels. The safety software programs from Bitdefender are especially useful for Internet Users and parents, but offers robust all-round protection for everybody, such as the technically savvy.
Bitdefender Total Security 2012 is an anti malware software which includes the things they call Autopilot. Should you turn autopilot on it's not necessary to configure anything. You won't see security pop-ups, and more importantly, it's not necessary to be worried about your security or privacy. Autopilot can make the optimum security options for you personally, instantly quarantine harmful files and block adware and spyware. However, if you wish to fine-tune the way the security software responds you are able to remove it autopilot and configure the program according to your requirements..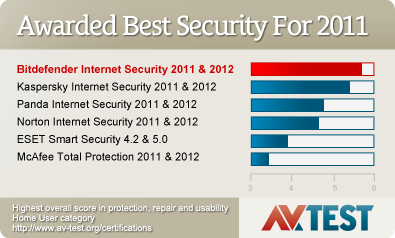 Bitdefender won the AV-TEST AWARD for Best Security Product of 2011, and it also ranked #1 Top Ten Reiews, Chice Magazine ConsumerSearch.com, and Which?Magazine(UK)!
BitDefender is comes with Bitdefender Free Edition which allows you to enjoy the basic features of Bitdefender free Antivirus for without any cost.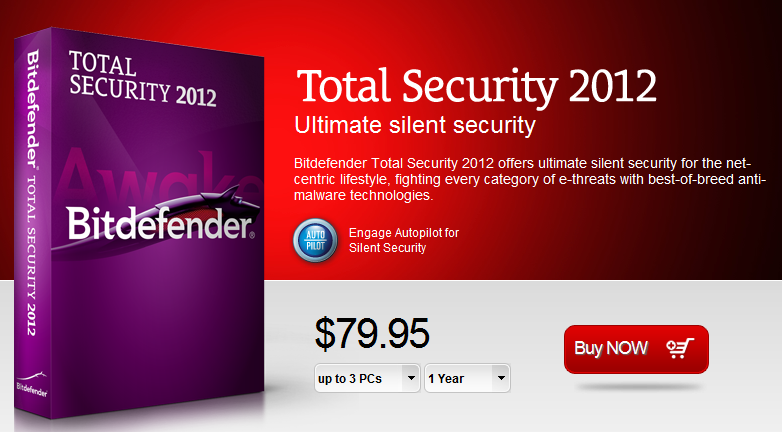 With this Free Edition you will get these features:
Virus Scanning & Removal
Scheduled Scanning
Immediate Scanning
Quarantine
Reports
Key-Features Bitdefender Total Security 2012:
Blocks viruses, spyware & spam
Halts ID theft attempts
Filters the links you receive from your Facebook and Twitter friends
Autopilot
I am impressed with Autopilot features which provide a hassle-free experience by making optimal security-related decisions without input from you. This means no pop-ups, no alerts, nothing to configure.
Keeps kids safe with cutting-edge parental controls
Full Speed
Bitdefender 2012 takes "scheduled scanning" to a whole new level, as the scanning only takes place when your system is idle.
Worry-free Socializing
Online backup
Tunes up your PC for optimal speed & performance
Secure Backup
Bitdefender Total Security comes with 2 GB of free, secure online space to back up your critical files.
Safebox – Automatically backs up files and folders to a secure remote server and allows file sync between your computers
Minimal system requirements:
Operating system: Microsoft Windows XP SP3 (32 bit) , Vista (SP2), Microsoft Windows 7 (SP1)
CPU: 800MHz processor
Memory (RAM): 1 GB
Available free hard disk space: 1.8 GB free space (at least 800 MB on the system drive)
Recommended system requirements:
Operating system: Microsoft Windows XP SP3 (32 bit), Vista (SP2), Microsoft Windows 7 (SP1)
CPU: Intel CORE Duo (1.66 GHz) or equivalent processor
Memory (RAM):

1 GB (Microsoft Windows XP)
1.5 GB (Microsoft Windows Vista and Microsoft Windows 7)
Available free hard disk space: 2.8 GB free space (at least 800 MB on system drive)
Software requirements:
Internet Explorer 7 and higher
Yahoo Messenger 8.1 and higher
Firefox 3.6 and higher
Thunderbird 3.0.4
Outlook 2007, 2010
Outlook Express and Windows Mail on x86
.Net framework 3
Help & Support
Bitdefender's customer and tech support team is instantly accessible. You are able to contact them 24/7 on the phone, email or instant chat. Unassisted support includes educational videos, articles, support documentation, data sheets along with a user forum. Routine tasks for example checking your licenses or subscription status and improving software may be easily accomplished using your My Bitdefender internet account. You may also follow Bitdefender on Twitter, YouTube and Facebook.
Conclusion
Bitdefender Total Security 2012 is a great value. Its recently remodeled UI is clever, intuitive, and versatile. Its efficiency impact is minimal. This suite can also be recommended to families because of its good parental controls.
We advise it to the visitors because we're confident that it's more able to discovering and getting rid of adware and spyware than every other security product.