Here is 2nd Giveaway on iTechCode. We have decided to conduct SEOPressor Giveaway this time but due to some workloads and busy Schedule it's not possible in the current time but we will surely conduct SEOPressor and CommentLuv Giveaway very soon.
Anyways, let's get back to the present giveaway.
GIVEAWAY PRIZE:
This time we are providing 3 license keys of Password Resetter (worth $104.97). I will be giving this Password Resetter to 3 lucky winners.
This contest will be running from June 04, 2012 through to June 10, 2012 and the winner will be announced on this blog on 11 June 2012.
General Giveaway Rules:
How to Enter the Windows Password Reset Software Contest? 
Duration of Giveaway: 1 week, starting at June 04, 2012 to June 10, 2012. Winner will be decided on 11 June, 2012.
Winning: To Win/Enter Giveaway, a reader should follow the Rafflecopter and post a comment (Quality Comment) with email.
The chosen winners will be contacted by e-mail; therefore, make sure that the email id is valid. I will wait for only 48 hours to receive responses from the winners. If anyone does not respond within that time frame, I will have to select another winner.
Hands-on Review of Password Resetter
When it comes to the topic of Windows password recovery, you have several options to recover a lost Windows password. First of all, you can take your computer in to a repair shop. This is both expensive and inconveniant, since you'll have to be without your computer and make two trips to the shop. Next, you can reformat your computer and re-install Windows to set a new password, however you will lose all of your stuff. Finally, you can use a program to help you recover your password, such as Password Resetter. This is a hands-on review of Password Resetter, so we are going to highlight some of the key features that make it unique, and also go over how simple it is to use. Losing your Windows password can range from a minor annoyance if you don't need your computer for anything too important, all the way up to being completly devastating if you need to use your computer for work or school.
We'll skip right past tips for coming up with a secure password, and not losing it. There are many articles online covering those topics, and if you're looking for Windows password recovery we'll assume it's too late for those kind of precautions anyways. Getting right to the point, the first thing we're going to be looking at with Password Resetter 2.0 is the ordering process. It's fast and secure to order, and it only takes a few moments for the download to complete. Rather than going to the store or waiting for something to arrive in the mail, Password Resetter is delivered via digital download.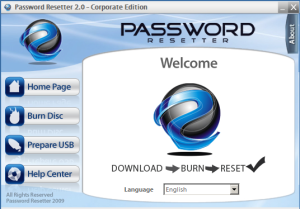 The first thing you'll notice once you open the program is how simple and clean the interface looks. It's very obvious how to use it just from looking at the interface, from here you can choose one of two steps to take.
Burning the software onto a disc, such as a CD or a DVD.
Using the software to create a special file on a USB harddrive.
If you're using a netbook, for example, you won't have an optical drive so you'll need to use the USB option. Other than that, it's up to you to choose which is more conveniant for you. The process to create the disc or USB is very simple, here's a screenshot from the "Burn Disc" screen. All you need to do is select your burner from the list, and click "Burn". The screen for USB is identical, except of course you'll be choosing the location of your USB drive.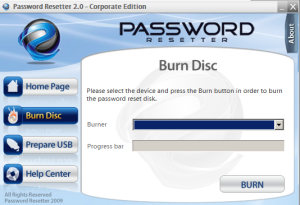 Once you have your USB or dvd created, it's as easy as putting it into the computer with the lost password, following the instructions and letting the software do it's thing.
The advantages to using Password Resetter are that it costs a fraction of bringing your computer into a shop, or having someone come over and take a look at it. Also, you won't have to worry about the technician snooping around or looking through your files while they have your computer. This is espeically important for a business that could have sensitive data. It is easy enough to use that anyone do a Windows password recovery themselves. The only downside, which is hardly the fault of the program but rather just a result of the circumstance, is that you obviously won't be able to use the computer that you lost the password for to create this disc, unless you have a different Windows account which you can use.
All in all, Password Resetter 2.0 is a very useful tool for Windows users. It's nice to have the piece of mind in knowing that you'll never have to worry about a lost Windows password again, since you can use this software as many times as you would like. Once you order it, it is yours to use as many times as necessary.
Sponsor: Password Resetter http://www.passwordresetter.com , Windows Password Recovery Tool.
We hope you win, and wish you good luck!
P.S. Get in our email list to get updated whenever we publish new cool giveaways (use the Subscribe box on Top Sidebar or Page).
Winners
Rahul Mehta
Sai Kumar
Irfan Siddiqui
My heartiest congratulations to all of you. Thank you for participating. I expect many more participations in future.
ITC is going to organise many more Giveaways shortly. Please stay in touch. Subscribe Our Feed. Something more exciting is waiting for you. Stay in touch!