Here is 4th Giveaway on iTechCode on a row. This time we are conducting a giveaway  on Video Grabber Pro. You all must know that currently on iTechCode one Giveaway is already running ;).
If you have just missed it, you may participate right now.
Here is the Link of SEOPressor Plugin Giveaway : Click Here.
Anyways, let's get back to the present giveaway.
GIVEAWAY PRIZE:
This time we are providing 2 license keys of Video Grabber Pro (worth $99.9). I will be giving this VideoGrabber pro to 2 lucky winners.
This contest will be running from June 24th, 2012 to June 30th, 2012 and the winner will be announced on 1st July 2012.
General Giveaway Rules:
How to Enter the Video Grabber Pro Contest? 
Duration of Giveaway: 1 week, starting at June 24th, 2012 to June 30th, 2012. Winner will be decided on 1st July, 2012.
Winning: To Win/Enter Giveaway, a reader should follow the Rafflecopter and post a comment (Quality Comment) with email.
The chosen winners will be contacted by e-mail therefore, make sure that the email id is valid. I will wait for only 48 hours to receive responses from the winners. If anyone does not respond within that time frame, I will have to select another winner.
A free web app to download online videos
While watching online videos, it is a real headache when you are bothered by maddeningly slow speed network and spotty connection. Or else, sometimes you wanna keep the videos stored on your PC forever just in case of being deleted by original users. For a variety of reasons, there will be times that you need to download online videos for offline playback and personal use. We know, many software apps are available to handle video downloading, but only in a few cases does a program can download videos for free.
No worries any more, http://www.videograbber.net is a free web-based service that allows you to download videos from YouTube, Break, Blip TV, Metacafe and a ton of other similar video sharing sites. Simply copy and paste the video URL into search box, the real video file will be automatically detected, and then you can save the target video as FLV or MP4 format into your computer, iPhone or other digital devices. Beside, this website is also working to support more websites based on users' requirements.

Definitely, this free video grabber does a magic to access free video downloading without installing any software or plugins. At the same time, you don't have to trouble about the download speed and video quality. After inputting the video link, click "Grab it" to find the video, a list of quality options like SD, HQ, HD1080P, HD720P, 420P, 240P will be displayed. Many websites are popular for sharing HD videos such as Vimeo, YouTube etc, just choose one of the quality you wanna get.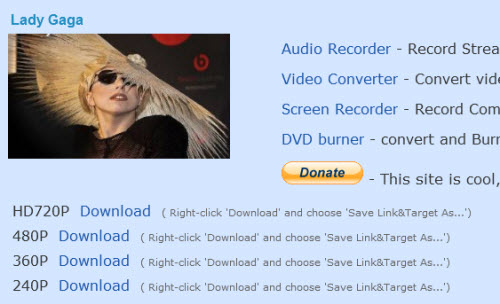 Video Guide about VideoGrabber.net
[youtube="http://www.youtube.com/watch?v=0_VpXW7su00&feature=player_embedded"]
Another obvious characteristic of videograbber lies in its four tabs including "Recent downloads", "Today's hottest", "Always popular" and "Search Video". The first three categories offer the best videos to users as a reference; you may also click on one of the tab to pick out your enjoyable videos. As for video searching function, it is a time-saving effort to track videos of your liking.
In addition, the site supports multiple languages including French, Germany, Korean and Japanese etc. This way, users are entitled to watching and downloading Japanese animation, South Korean drama and videos from foreign video sites.
About Video Grabber Pro
This great web app is helpful while grabbing online video for your PC. Nevertheless, still a majority of video sites like CNN, Hulu, ABC, Ovguide, MySpace, Netflix etc, cannot be grabbed by the usual method because the videos are streamed through RTMP protocol. In order to solve the problem, Video Grabber Pro really comes in handy. Its Advance video recorder can nearly download all videos from internet. The operation is as easy as the web app to download online video, only enter the URL into built-in browser for downloading. Moreover, the software app can be served as video converter, editor, screen video recorder and embedded media player. The pro version needs to be bought, but you will experience never-expired function after purchasing.

We hope you win, and wish you good luck!
P.S. Subscribe our email list to stay updated with new cool giveaways (use the Subscribe box on Top Sidebar or Page).
Winners
Sai Kumar (Facebook)
Harneet Bhalla (Facebook)
My heartiest congratulations to all of you. Thank you for participating. I expect many more participations in future.
ITC is going to organise many more Giveaways shortly. Please stay in touch. Subscribe Our Feed. Something more exciting is waiting for you. Stay in touch!