This is a Guest Post By Ehsan Ullah
Understanding the people you're trying to target and creating a niche with several short and long term goals is the key to success in Blogging. It's great for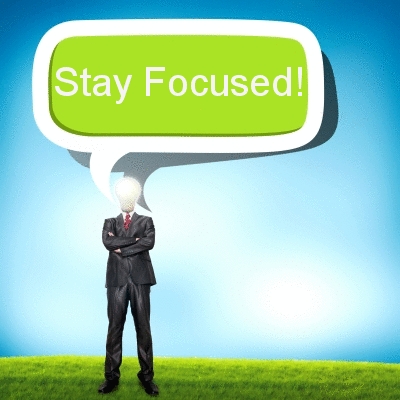 every new Blogger to take action and get your blog underway as soon as you can and some careful planning is essential for Blogging success.
The biggest mistake which almost every new Blogger is making is that they are wasting countless of hours on their blog design, looking for a theme and other plugins to install instead of focusing on their content.
You should focus on generating a quality content on your niche instead of spending your time on fancy flash that contributes nothing to your Blog.
Don't Miss: How To Choose a Blog Niche?
Here I'm going to share 5 quick tips, especially for new Bloggers to stay focused and to prevent traffic loss.
1. Stay focused on your niche:
You should focus on your niche instead of writing whatever came to your mind. If you do, your visitors will feel worse and they will stop visiting your blog. Your blog will turn out to be something that everyone will be annoyed to look at.
A couple of months ago I used to visit a site that had superb and helpful articles on social media tips. All the articles were well presented and I had subscribed to that website and it became one of my favorite websites, but after few days articles on kids and family started to appear and the tips on social media articles got less and less.
I stopped visiting!

2. The headline is king!
I know you have always read that content is king and never heard about "headlines is king". It's really something new for you, but really it is something to think about. We all know that content is still king, but they read the headline first, so I think headlines should also knock the attention of the readers.
3. Stay focused on the content:
Content is the biggest success factor of a blog and as I've mentioned above rather wasting time on other unwanted aspects that add little to no value to our blog we should focus on providing valuable and helpful content to our readers.
If you have the art of adding a value to your content, you can be a successful Blogger.
4. Nail down your target audience:
Write for people not for machines! Who do you want to connect with on your blog? As a Blogger it is your responsibility to know who is reading your blog and what they want. You should provide them content that connects with their needs.
You should respond to comments on your blog as much as you can is crucial, You have to show that you're as interested in what your readers say as they are in reading your content.
Offer guest post to other blogs related to your niche, make comments on that blog and try to contact with your readers through chat. These are the ways to know well your audience and stay connected them.
5. Focus on your writing style:
Having a unique writing style is something that needs to be learned before you even think about choosing a domain name. You should be able you make your readers nod with every point of your article. If you have good and unique writing style that everyone will love to read your articles.
Blogging success doesn't come overnight but finding focus of the blog comes overnight. I hope you got to read something fresh at here at ITechCode today.
Do you have any extra tips for Bloggers to stay focused on their blog? Let us know in comments!