If you are looking for a convenient mode to get more and more from Twitter, you have landed on correct page my friend. Today I am going to tell you about
JustRetweet
.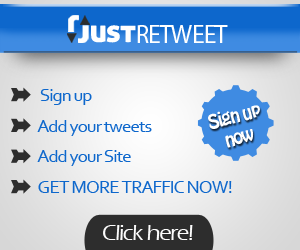 JustRetweet is one of best social sharing site for social media nerds and influential bloggers. I got to know about it just a month back and trust me and just plunged into it, and now I am obsessed to it.
Don't Miss : 10 Helpful Tips, How to Use Twitter Properly
Valentine Belonwu a young entrepreneur started this website somewhere around late months of last year. It has been growing drastically since its inception and the reason is that it provides an awesome tool the bloggers to get more and more from Twitter.
I know you might have heard about this website but, Are you sure you know about its power and how it works?
If yes, it's good but if no, go through this write up. I hope, rather believe that this editorial might help you know about it well.
And yes let me clear it here only that 'It is not a paid review'!
What I have read all around about JustRetweet is that it brings instant followers, ReTweets and credits but I personally don't believe in those.
Rather it won't be wrong if I say that this is the only thing I don't like about JustRetweet.com. What I feel is that the instant followers or credits don't stay for long and thus they are not actually useful for our blogs.
What I like the most about JustRetweet is that it is all about JustRetweets and not just the followers.
You know what friends I wanted to share this awesome promotional tool with my blogger friends as soon as I started using it, but then I felt that I must first use and then recommend it to my friends.
Now as I am using it for a month and getting immense response I felt like sharing it with my blogger friends.
How JustRetweet Helps?
You first need to sign-in with JustRetweet using your Twitter account. You will immediately get 100 credits in your account and you will get 25 more credits to set up your profile there. You can earn even more credits by referring people this site.
Don't Miss : Here's Why No One Follows You on Twitter
Furthermore you will get new credit every time you JustRetweet content of any other member there. The number of these credits depends on the other registered members. Some members offer 10 credits to JustRetweet their content and some offer even more.
So it is pretty obvious that if you offer more credits more are the chances for your content to be retweeted. Apart from this you can earn some more credits by viewing some of their own blogposts and websites.
As I mentioned earlier above that I am not bothered much about the credits but the huge retweets for my post amazes me.
Will JustReweet Lead Huge Traffic?
If this is your next question, let me tell you that it won't be sensible to expect a huge traffic now as the site is started just a few months ago and there are not yet so many of influential users to bring you immense traffic but yes it may bring a considerable change in your traffic for sure.
You can trust me as I am noticing a good change in my daily visits.
I would like to share here that I just noticed today that my website is the 'Featured Website Of The Week' on JustRetweet.com.

I am also sharing a video which will help you guys understand more about JustRetweet and you will Get More Retweets for your content. BTW this Video is hosted by Ileane Smith of BasicBlogTips.
[youtube="http://www.youtube.com/watch?v=m4NCa5Gl_DI&feature=player_detailpage"]
Get Started and Join JustRetweet
1. Go to JustRetweet.com.

2. Click Signup with Twitter
3. Authorize app from your Twitter account and you are done.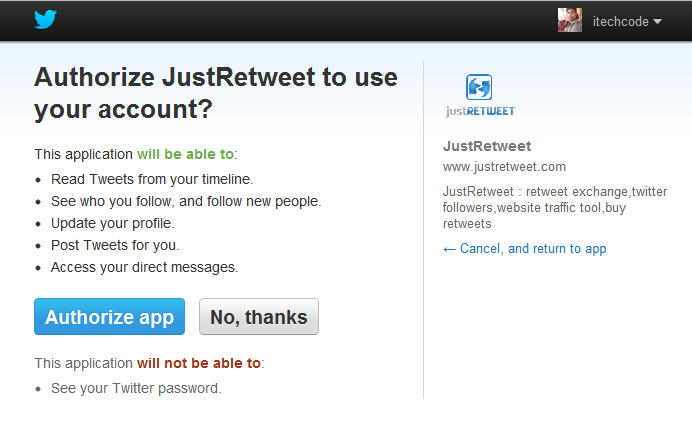 4. Now Retweet other blogger's posts and gain credits. 

 5. Set your posts for Retweet.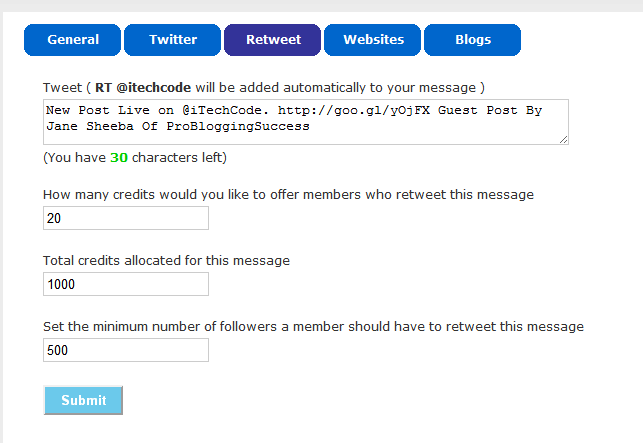 I guess JustRetweet is clear to your guys now. If you still have any queries you can ask me from comment box. I am online 24X7 to solve the queries of my friends.
All I want to say in the end is that give JustRetweet a try; I am sure you will be as amazed as I am.