Have you ever used Dropbox? If no, you are missing one of the most excellent sharing tools and if yes, you might know how convenience it adds to our lives.
Synchronizing and sharing the documents, pictures, music files and much more would never have been so easy without Dropbox. It is easy, quick and the best part is that it works well on almost every device.
Now I have a good news for all Dropbox users. You can now synchronize your programs and settings also via Dropbox.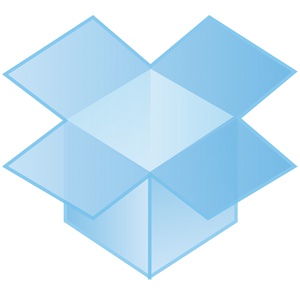 Well, you might be thinking, how can we just drag and drop the entire folder to the Dropbox folder. Don't worry, I have a solution, it's Dropboxifier.
Don't Miss : Google Drive Features and Functionality
What is Dropboxifier ?
Dropboxifier is a small program based on an idea named SYMBOLIC LINKS. This idea is much popular among the Linux and Unix users as compared to the Windows users.
Originally Dropboxifier was designed to work only with Dropbox but it also works well with other online storage programs based on creating new virtual folders on your system hard drive.
Let me tell you what SYMBOLIC LINKS are. They are somewhat similar to what we call as 'shortcuts' in Windows. The only difference is that they are actual folders and not just the shortcuts. The Dropbox follows the path of these Symbolic Links to share the data.
Dropbox automatically get into the selected folder and check the data to be synchronized and start doing its work on its own.
No Installation Required
To get started with Dropbox, all you have to do is to download it from here and you are done. Open the program and it's ready to use without any time taking installation. As you open the program it sets the symbolic links and start working.
As I mentioned above that it is very easy to set up. When you will open the program, you will see a 'Dropbox Folder'.
You can browse your own Dropbox folder from here. When you will click here, you will get a pop up, click 'Yes' and the Dropboxifier will keep a track of the Symbolic Links it creates.
Check on the left of your page, there is a text field 'Name'. You can name your Dropbox Folder here. (This helps in locating your Dropbox folder easily).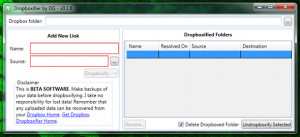 Now go to the tab 'Source' and mention the folder which contains the data to be synchronized.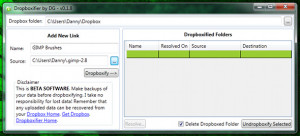 After completing these steps click on 'Dropxify' and the program will instantaneously setup the symbolic links.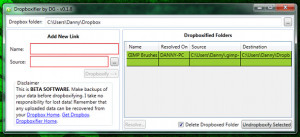 If you want to receive the data from other machine repeat the same steps.
As setting up Dropbox is easy and quick, so is removing it. If ever you want to remove the Dropboxified folder, all you need to do is to 'select' it and click on 'Undropboxify'. The symbolic links between the two folders will break and the Dropbox will be removed.
Conclusion:
After this long write up I would like to summarize whole thing by saying that Dropboxifier gives a best experience of sharing pictures, documents and program files. Its user friendly interface and compatibility with any device makes it one of the best sharing and synchronizing tools I have ever used.
I would like to add here that this synchronization program works well with not just Dropbox but also with other sharing programs like Google Drive, SkyDrive and much more. According to the users, the program is still in beta but if you ask me it has worked fantastically for me.
If you guys find my explanation still unclear I guess the Dropbox guys would explain you better. I mean, it would be better to Get Dropbox and check it.
Once you guys are familiar with Dropbox, you'd like to remotely shutdown your pc or sync Windows Live writer local drafts using Dropbox.
This is a guest post by Tanmay, the C.E.O of TechTipsGeek.