In case you are not up on the service, Foursquare is a social networking service that has been around since early 2009 and has been steadily gaining users over the years. It is a geolocation service that works like a digital phonebook, allowing you to see a variety of businesses located in your vicinity with the help of your smartphone's GPS. Not only does it let you know what venues are located near you, but it also features tips and comments left by other users and friends that will help you to decide where you want to go.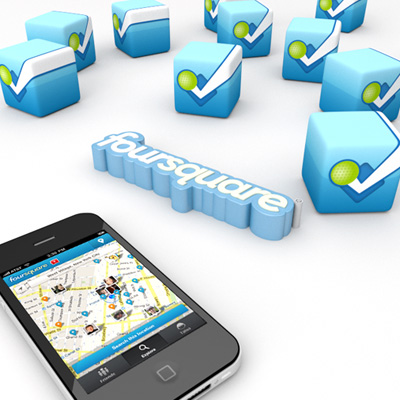 If you own or run a business of your own, claiming that venue on Foursquare and then continuing to manage and promote it can do wonders for your store, shop or whatever type of business you run.  Here are five reasons why you should get tuned in to Foursquare if you already haven't, and what it can do to help your business grow and prosper.
Increase Visibility
Foursquare is a social network that can get you on the radars of potential customers quite literally. Say you are new to a town and want to find a coffee shop to check out. Foursquare will show you a list of all nearby venues that offer coffee and similar beverages, after which you can browse all of them, and check out pictures and comments left by users who have been to these venues and were inclined to leave tips about it. Just by claiming your venue on the Foursquare map and getting your Foursquare page functional, you are already increasing the visibility of your business significantly and providing the opportunity for new customers to discover you on the go. Another great thing about Foursquare is that most users integrate it with Twitter and Facebook, letting everyone on these social networks know what venue they have just checked into. So if someone using Foursquare checks into your venue, you can be sure that all of their Twitter and Facebook friends will find out about it.
Get Feedback
Another great thing about Foursquare is that it is incredibly interactive and it provides you a channel for direct contact with your customers. There is a "to do" list that you can use in order to show your customers some of your plans for improving your services and whatever else is on your agenda that you think your customers might get excited about. It also allows people to comment on your venue and the services that you offer, after which they can leave negative or positive reviews to let other people know whether they recommend the venue or not. Not only that, but you can respond to criticism left by customers as well to keep the lines of communication fully open.
Create Loyal Customers
This interactivity that Foursquare offers can help you to establish a strong relationship with your customers and turn them into loyal ones. Moreover, you can use Foursquare to offer incentives, discounts and prizes for people who keep coming back. One of the main features of Foursquare is the one that enables a user to become the "Mayor" of a venue if they check in more regularly than any other user to that venue. You can use this to promote some healthy competition between customers and offer prizes or free products or services to people who hold the title of "Mayor" at your venue. There is also a feature called "specials" that allows you to offer promotions that will pop up on the user's screen if they are located in your area and are looking to see what's going on in the area.
Research your Customer Base
Another fantastic feature is the business dashboard that Foursquare gives you as the owner and operator of a venue. On this dashboard you can not only track check-ins on a day-to-day, weekly or monthly basis, but you can also find out a lot more about the people who visit you. By looking at the dashboard, you can determine whether more men or women frequent your venue, and learn more about the demographic that checks in to your venue most often by finding out where else they go and what their favorite spots are around the city. The dashboard basically offers you free consumer research.
Foursquare continues to grow as more and more people discover it and the sooner you get hip to this vibrant and ever-evolving social network, the better chances you will have of using it to the advantage of your business.
---
Author Bio : David Lazar is a regular blogger at PDF Converter blog. With a background in journalism, he specializes in writing blogs on a variety of topics, including freelancing, careers, finances, technology and new media.