I am a blogger and am blogging to make money like the millions of bloggers all

around the world. Seeing the popularity of the ecommerce stores online, I always wanted to start selling online by opening an ecommerce store for myself.
The only thing I was waiting for was some good ecommerce hosting service.
Do you know that a perfect web hosting is the first requirement if you want to open an ecommerce store? The reason behind this statement in my editorial is the size of an ecommerce store. You need a dependable system for better handling of your ecommerce store.
After looking for almost 100s of web host services my search ended at izzonet.com. Before starting with izzonet I first used its trial version.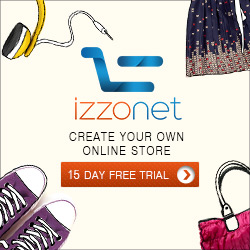 Yes!! You read it correctly. Izzonet.com provides a free trial version.
After using its free trial version I was thoroughly impressed with its features. Actually seeing its features I understood that anyone can start up a new ecommerce store and start making handsome amount online. It has a very simple and user friendly interface.
Izzonet.com has everything in it right from selecting the domain to applying the theme and adding the content in your ecommerce store.
The domain is also available at a reasonable price, starting from $13.65/year to $119.95/year depending on the extension you choose.
You can start easily from the home page of Izoonet.
Now you might be thinking that usually every ecommerce hosting service provides these facilities, then why should one go with Izzonet.
I will tell you the reason.
Usually the ecommerce hosting companies provide designs, marketing and management tools and a stable platform but Izzonet is far better as it provides ingenuity, flexibility and reliability at its first preference.
Summarized features of Izzonet :
The first feature which I loved the most was that it was absolutely in my budget and in spite of being reasonably priced, it has almost every wonderful feature any eCommerce hosting company can.
It has no hidden charges for the domain name or the website set up.
It is very easy to use, simple and user friendly interface.

Unlike the other eCommerce hosting services Izzonet provide ecommerce marketing tools and communication tools as well.
The supplier interfaces of Izzonet helps in selling online  andrationalizing your business.
The anti fraud tools, eCommerce SRM and CRM and other social media features makes Izzonet stand out in the rabble of numerous eCommerce webhosting companies running over internet
Izzonet can turn a layman into an ecommerce store owner by the comprehensive video tutorials and guides on selling online.
Mentioning the best feature in the last and that is its customer support system. The expert technical support team is available online for 24X7 to support the customers. I am pleased to mention here that the team resolves all my queries in real time.
Secure web hosting
Supports all leading payment gateways
Supports leading shipping companies
Offers a free 15-day trial
Have you ever heard about the any eCommerce store providing a personal eCommerce expert to its every client? I bet you haven't. Izzonet is the one which has this amazing feature.
I have my personal ecommerce expert at Izzonet which not only helped in establishing my WebStore but is also helping me in selling online and streaming my business.
The flair which is increasing my customer list drastically is that my customer can purchase from my e-Store without paying any kind of taxes.
As told by the technical experts there, Izzonet will soon launch the technology where the customers can review the product before paying for it and I am sure this feature will take my e-Store business to zenith.
Glad be a user at Izzonet and will surly recommend it to my friends and readers.