Subscribe to my Free Newsletter.
Tough competition indeed! Use Immediate List Building Pro and get the most out of your blog.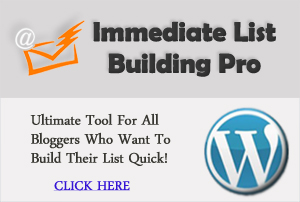 This is the call for all the bloggers who are out there and striving to achieve something more than just writing words. In fact their main aim is to accelerate the sale with the increase level of subscriptions.
But if the bloggers are not able to make a connection between its readers then it will be just another piece of information in the search engine. Thus you need to have an email list…
This email list is considered to be one of the important and crucial of all. If you can build a list it will make you feel special about what you are going to achieve. In simple words, you are just hitting your target audience with the right kinds of words.
In this case make sure that you offer something and also deliver your commitment properly.
In regular cases, the readers enjoy the freebies which include reports, white papers, video or audio courses, e-books and many more.
Now there are pros and cons of using the freebies which are actually creating an incentive for the people who will click the call to action button.
But as a whole you can say that plugins are really considered as one of the interesting and coolest thing that is available in the market.
Some of the important features of Immediate List Building Pro that will provoke the buyers with the call to action buttons:
1. You can add uncountable options to the form.
2. You are able add categories, pages, post while you are having these list building campaign.
3. Comment box, side bar and post can also be activated.
4. You will also get the check box so that you can have the comment form.
5. The registration page is being placed here.
6. For a perfect guess, chosen template is being set; it will be easy to get HTML option code.
7. With help of the footer bar these things can be allotted with 45 different options which are considered as something innovative and outstanding.
All these features of Immediate List Building Pro will allow boosting the subscriber rate at the best and will deliver you all.
But if you are non-supporter of an irritating pop up window then certainly checks box is being supplied lying just below the comment box for the visitor's subscription.
You can also send a thank message to those commenting for the first time on the article along with the option form that ultimately gives a hike to the subscription rate. In fact you can also edit your website display which enables you to squeeze the information. Even the option form comes in variety of colour formats of 5 options including four stunning designs.
But definitely you don't want to end up your connections with the visitor's at this level. Thus you can take the assistance of social media networks in order to share the new posts or create a forum to caste the vote and much more aspects that ultimately makes your mail id to become a hyperactive one.
Are you aware that you can add videos to the selected posts? If not that means you have not heard about all the features of immediate list building pro. Along with these, you get the options to select template options and powerpack plugin at a much affordable prices.
Thus it would be easy to conclude that list building pro has a wonderful user interface that enhances the profit percentages and depreciates the risk factors involved.

With only 60 days in hand, Immediate list building pro gives the money back offer to enhance the trust entrusted on this product. Are you ready to set in a new trend?