AuthorRank is an innovative idea that is all set to undermine all the Panda updates Google has put forth. But unlike Panda updates, AuthorRank shouldn't faze users. While it doesn't replace PageRank, AuthorRank will sort the search results based on the reputation of the creator of the content. Verified content by an author will be graded by Google and sorted in the results accordingly.

Why Should You Care?
With such an elaborate and different criteria or search results, it is expected that Google will start integrating AuthorRank in their main ranking algorithm. It is actually much more reliable than the PageRank sorting which depends on backlinks because the verified content of AuthorRank pages has much less chances of being spam.
Don't Miss : The Only Guide You Need To Boost Your Google Page Rank
How Long Do You Have?
A date is not important. Just like SEO, AuthorRank will not be built up in one day. You need to start working on getting a better rank, the longer you are prepping your pages and your author profile, the least damage you will be dealt if and when AuthorRank takes over. It may not be as destructive as Panda updates, but if you don't build your credibility as an author, it will be too late when AuthorRank does start functioning fully.
AuthorRank Informs PageRank
For now, AuthorRank is not going to overrule PageRank, but act like an advisor. The link graph will now show which of the entries are most influential. Those with a high AuthorRank may be given more priority and possibly a better PageRank. For the same reason, links from a blog network or such sources that have no authorship, may be rendered useless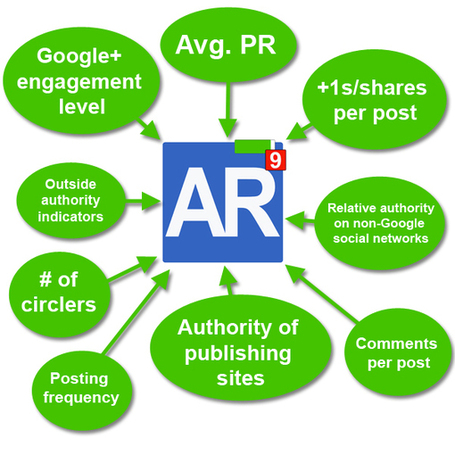 Image Source : SeoMoz
How To Start?
First you need to set up your Google Authorship by tying your author identity and your content, which will help Google give you an initial AuthorRank. For this, you will need a Google+ account.
Once you have Google Authorship, incorporate all the quality content you have already published online, which will help Google determine your AuthorRank.
Your initial AuthorRank may not be excellent, but you can improve it by publishing content that displays your expertise, improves reputation and shares knowledge
If you are hired to promote a brand, it will be trickier to get a good AuthorRank. The head of marketing may not want to let their employees create content and come oto the forefront of the brand promotion because they are often afraid that their brand image will slip. Some, on the other hand, may be enthused about AuthorRank. So you must carefully examine the work culture of a company before you take on projects
Make sure the content you are creating is good enough for people to share. This will help you get a better AuthorRank as well as PageRank. Guest bogging, publishing blogs, submitting posted articles in article directories, frequently using Google+- all of it counts.
These are some of the basics of using AuthorRank to your advantage. As mentioned, you have to start building your reputation as creator of good content as soon as possible if you want to get a good rank if there is a complete overhaul of PageRank.