It is now very much impossible to dream a world without movies. When one speaks of movies, then it has to be kept in mind that there are a huge number of softwares which makes these movies eye pleasing. Without them nothing would have been possible. But at times movie editing can cost a lot of money. Therefore many free softwares have come up which can be used for editing videos both by normal users and professionals. Editing softwares need high graphics and occupies a lot of space. This becomes a problem while storing it on normal computers. Hence some softwares have been designed which are easily accessible.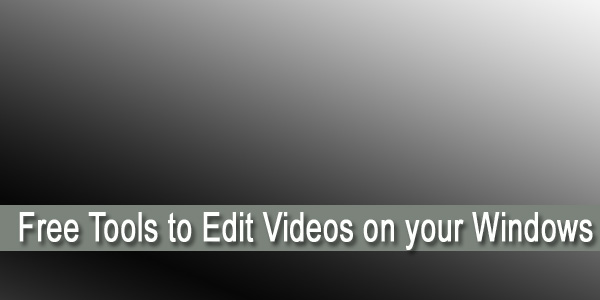 2.6 version of Windows Movie Maker:
Microsoft has made this software available for free download. This software can work both on windows7 and windows vista. Professionals might go for more complicated softwares to edit videos, but this too is a very good software for both beginners and professionals. It has a lot of features.
Virtual Dub :
This is a video processing or capturing utility. It is for 64 to 32 bit windows platforms. This software has been licensed under GNU. It does not have a very good power for editing videos which an Adobe Premier would do, but it helps to streamline fast linear operations. It possesses batch-processing facilities. It can also process a large number of files. This software mainly processes AVI files and BMP images.
ZS4 Video Editor :
This editor is absolutely free and easy to use. This software allows professionals and users to mix various media types such as pictures and audio files and videos etc.
Wax :
Wax gives a high performance in editing videos. It also has a very good quality of special effects. It serves a very general purpose for editing and video composting. The speciality of this software is that it can create both 2D and 3D effects. It can also work in two different modes which are the plug in and standalone application mode. The first one is for beginners and the later for professionals.
Cinefx Jashaka :
Cinefx works offline. It's mainly used for animation, playback, editing, encoding and special effects.  It helps to build professional digital media in the desktop. There are tools that both Bollywood and Hollywood uses for special effects.
Blender :
Blender is mainly used to create 3D effects. This is designed for all major operation systems and has acquired its license from GNU. It is the most powerful modeling and composting tool. This tool along with video effects and 3DS effects, also allows the user to add sound effects.
Avidemux:
This a free software built to do simple stuffs like filtering, encoding tasks and cutting. It supports MP4, AVI, ASF and MPEG files. It uses different codes for these. The work can be done automatically by powerful scripting, using projects etc.
MovieStorm :
This is used completely for including 3D effects. With the help of this software a lot of animation effects can be created, be it cartoon, murders, music, horror etc.
Movica :
This software basically is a graphical user interface which uses various programs to edit different movie files. A lot of stress has been given on keyboard shortcuts so that the job can be done easily. Movica is used for working on those files on which Virtual Dub cannot work, such as, rm, flv, wmv, mpg etc. This makes this software a very versatile one.
Video Spin :
This is used for basic editing and it really does a good job. It efficiency can match that of a paid software. It is a lot user friendly and has remarkable features.
AVledit :
This free software is mainly used to work with AVI files. It can perform a lot of digital video processing.  It can split and join AVI files. It can also extract portions of the video. Videos can be captured in many ways like one frame per minute etc.
StoryBoard PRO :
StoryBoard pro software gives a lot of students, teachers, professionals and beginners, tools and ideas about video editing before they get started. Shot titles along with descriptions can be entered into the video clip with the help of this software. Music, still, audio, video everything can be brought into order. 
Author : This is a guest post by Rajkumar Jonnala on behalf of http://www.techiestate.info/ and http://www.seoblogonline.info.