MaxBlogPress Subscribers Magnet is a must have for blogger who want to create a huge email list of subscribers to their blog posts. It is a great add-on plug-in to your blogs. Like the name suggests it is a great plug in to have on your blog that can attract subscribers to you blog like a magnet in several ways. This does not actually mean that the plug in actually has a magnet, the attractive ways that it presents your blog is a sure way to make people subscribe to your blog so that they can visit back as and when they want.

I am Using this Plugin and Really Satisfied. I must say this is awesome plugin and with the help of this plugin i got lots of subscriber. I love all the useful features of this plugin that is why i am using this plugin on my blog's sidebar end of every article and on footer as Popup.
There are plenty of great features that would make you want to add MaxBlogPress subscriber's magnet to your blog. They are:
Maxblogpress subscriber's magnet is easily manageable. You can easily customise the options for you subscriber magnet. There are plenty of options to choose from on how to place your subscriber magnet, and how you want it to appear. You can customise the fonts, the effects you need, and the exact placement of the subscriber magnet. There are seven default designs that you can choose as your subscriber magnet and better yet, if you want, you can easily create your own design with the help of HTML. The restore and back up of information is as easy as a click of a button. All you need is click the back up and restore option and all the form data would be saved immediately.
There are plenty of options that you can choose for the position of your subscriber magnet. You can embed it in your blog; anywhere that you think would catch your reader's eye. You can make it pop up as soon as your blog is opened. You can have it as a widget at the sidebar or footer of your blog, and also as comments. The idea of this plug in is to attract readers and there by increasing the number of email subscribers to a blog or word press. Maxblogpress subscribers magnet has been successfully used now by many bloggers and writers.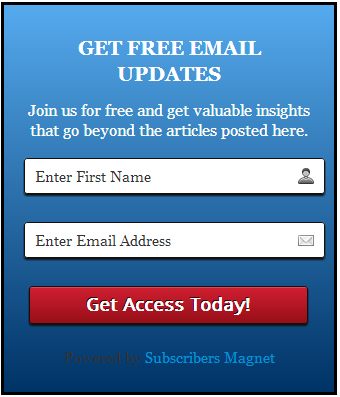 There are plenty of pros and cons associated with Maxblogpress subscribers magnet. The pros of Maxblogpress subscribers magnet are:
Maxblogpress subscribers magnet works well with almost all the auto responders in the market, like Constant Contact, iContact, Aweber and Getresponse.
There are plenty of ways for you to make your subscribers magnet attractive and you can occasionally change it to suit your style.
Maxblogpress subscribers magnet provides with free update of plug in from time to time and also provides the necessary upgrades for a lifetime.
There are plenty of ways to add opt-in form to your blog or word press.
Where there are pros, there are cons too. Some of the reasons why Maxblogpress subscribers magnet is a disadvantage are
It is just very easy to manipulate the plug in with general HTML and other programming languages.
This plug-in can also attract not only people who are genuinely interested in your blog, but also scammers and other types mischievous people.
Maxblogpress subscribers' magnet is a great plug in to have if you are a successful blog writer and have a great list of subscribers. It can help double the number of visitors to your blog and increase the number of subscribers too. With plenty of options for you to manipulate, you can always make the necessary changes to grab attention of your readers. You can choose from the two editions of Maxblogpress subscribers magnet; single license edition that allows installation of the plug in for just one blog at a time, and the unlimited license edition that allows installation of the plug in to multiple blogs and word press at the same time.
MaxBlogPress Subscribers Magnet (Single License – $1 trial for 14 days)