Are you ready for another giveaway? If you are not, then you should quickly gear up to be thoroughly impressed by MaxBlogPress Subscriber Magnet and your biggest chance of getting it absolutely free.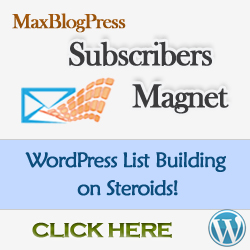 Giveaway prize: This time we are giving away MaxBlogPress Subscriber Magnet (price: $37). 2 winner will get the prize via a submitted email.
How to Enter the MaxBlogPress Subscriber Magnet Contest?
1. Duration: A week, starting from November 2 to November 9. The winner will be announced on November 10.
2. Winning: All you need to do to enter is to follow the Punchtab and post a quality comment with your email.
We have often used MaxBlogPress plug-ins which are reliable and loaded with new features and more importantly, regularly updated. As a result, we had high hopes for Subscribers Magnet, which is a plug-in than helps bloggers create a master list of email addresses of their blogs' subscribers.
MaxPressBlog Subscribers Magnet is different from feed plug-ins because of its variety of customizable options. If you think the default look of the subscriber magnet, you can easily edit it and pull up a unique template that looks good on your blog. Even restoring settings after a change you do not wish to retain is quite easy: you simply need to click the 'back up and restore' option and all immediate changes are reversed. You can embed the subscriber magnet anywhere you see fit on the page; the widget can be pinned on the sidebar or as a footer of your blog.
It is compatible with almost all auto-responders- Constant Contact, iContact, Aweber and so on work quite well with MaxPressBlog Subscribers Magnet. You can choose either a single license edition that allows the magnet to be placed in one blog at a time or the multiple license magnet that allows it to be put up in a number of blogs.
The chosen winners will be contacted by e-mail; therefore, make sure that the email id is valid. I will wait for only 48 hours to receive responses from the winners. If anyone does not respond within that time frame, I will have to select another winner.
Here We Have Wrote a brief review on MaxBlogPress Subscriber Magnet.
We hope you win, and wish you good luck !
P.S. Get in our email list to get updated whenever we publish new cool giveaways .
Winners
1. Jitendra Purohit |
Facebook ID : https://www.facebook.com/jitujazz123
2. Nicole Pieper |
Facebook ID : https://www.facebook.com/nicoleaquarius
My heartiest congratulations to both of you. Thank you for participating. I expect many more participations in future.
ITC is going to organise many more Giveaways shortly. Please stay in touch. Subscribe Us. Something more exciting is waiting for you. Stay in touch!