Wondering how to make it easy for readers to share your great content? With so much information flying around the internet, it would be a good idea for you to make the best of the social network to promote your posts. WordPress is a popular blogging platform with its countless plugins available to help you to promote and link to your actual profiles. Here is a list of top ten social sharing plugins for wordpress.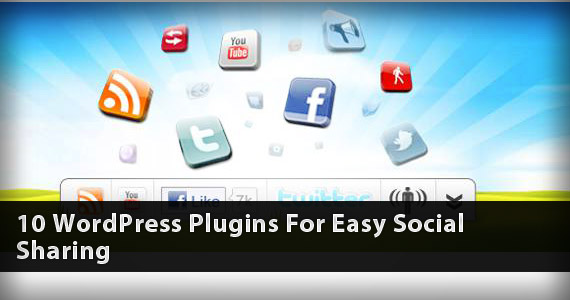 1. Sharebar
Sharebar is an awesome plugin that tops the list of social sharing plugins currently. It has lots of dynamic and customizable features. Sharebar can be viewed as a vertical box on the left of your blog post. You can easily add selected social network buttons like Twitter, Facebook, Digg, Google Buzz and Email into this box. An interesting feature about this plugin is that it hovers at the side of your posts making it easy for your readers to view the plugin as they scroll up and down. And if the reader minimizes the page width, this vertical box automatically turns to a horizontal bar just below your post title. This tool also allow you to perform various editing operations of the buttons. You can also disable the plugin from automatically adding to your website.
2. Follow me
Follow me is a simple yet important word press plugin that you must have. It is a great tool that allows you to display links to all your social media profiles in one, easy to access button. Follow me is available in 3 different icon styles that you can choose from. This tool lets your readers know what sites you use and will allow you to connect in more places with new and current friends. Unlike other wordpress plugins, follow me does not cluster the screen. You can simply download the plugin without any coding. All you need to do is insert the URLs of your profile pages and get connected.
3. Socialize
Socialize is one of the popular wordpress plugins that allows you to easily add effective social sharing buttons to your posts. It supports 12 popular icons including Pinterest and Buffer. Here, you have the options of adding the buttons either inside the content or in a box below the content. this plugin creates an additional panel in your posts admin that allows you to choose more efficient sharing buttons for your posts. You are also provided with a "call to action" box at the bottom of your posts that asks readers to do something, like check out one of your services or to subscribe and comment.
4. DiggDigg
Diggdigg is another popular social sharing word press plugin with lots of customizing options. It makes easy for your readers to share your articles. You can either choose to put a fancy floating bar on the lefthand side of your posts or add a normal bar at the top or bottom of your articles.The recently updated version of this plugin allows the display of latest social networks like Pinterest, Designbump and Sphinn. Diggdigg is free to download and use, forever.
5. Getsocial
Getsocial is for those who don't get the option to place the tool bar anywhere else on their post. This is a lightweight and easily managed social sharing plugin which floats on the leftside of your post. This plugin also comes with lots of other features for example you can fade out the background and only have the buttons displayed. You can easily add other social sharing buttons by using a code snippet. Another interesting thing about this plugin is that due to its light weight, it doesn't put a toll on your website speed.
6. ShareThis
Sharethis is a popular powerful social media plugin which gives you more options to choose from. For example you can choose for your display to include a single icon, a series of icons or widgets with counters. If you register for a service, sharethis lets you to access analytic features such as what kind of content was shared from your post and where. You can also integrate this with Google analytics.
7. Addthis
Addthis social sharing plugin brings in more traffic to your site. This awesome plugin supports 330 popular social networking and bookmarking sites like Facebook, Twitter, Digg and so on. It also supports address bar sharing in modern browsers. This plugin comes with small icons that are quick to load and recognized all over the web. It helps you with analytics such as which content is most widely shared and which social network is popular.
Use the most innovative social media and sharing platform for the web, Social media widget. It is a pretty neat sidebar widget, great to look at and adds some excitement to your website. This is a fantastic solution which allows you to easily add any social network profile in your sidebar and get readers connect with you, no matter where you are. There are 3 sizes and 4 packages to choose from. The 4 types of animations vary quite a bit in design, thus enabling you to choose one that matches your website's style.
9. Slick Social Sharing Buttons
Slick social sharing buttons is a great wordpress plugin that takes up minimal space on your blogs. Through its slick floating effect, this plugin gives your articles a very elegant look. Another thing that makes it great is that you can add the option to only have the buttons drop down after the big button has been clicked. It is just amazing to have this plugin floating on the left of your website.
10. Sexy Bookmarks
This is an attractive wordpress social sharing plugin that is more complimentary to a floating bar like Diggdigg at the bottom of your posts. It allows you to easily add a set of social sharing buttons at the bottom of each article and can be extended to lots of different options. If you are an analytic geek, sexy bookmarks is definitely something you can look for.
So what are you waiting for? Go try these wordpress social sharing plugins and make your blogs more shareable for your readers.
Image Credit : 1stwebdesigner.
About The Author: Kelly is a writer/blogger. She loves writing travelling and reading books. She contributes in Caribbean Cruise Line Scam. Her contribution can be also found here Caribbean Cruise Line Scam