Facebook has been working on improving its messaging service from spams for many days and one of their strategy for reducing spam was to introduce small charge on sending email to people who are not our Friend or Friend of Friends. Recently Facebook has been testing this feature on Mark Zuckerberg's Account where Facebook users can pay him $100 to send an email to Mark Zuckerberg that arrives directly into his email inbox rather than making use of the Facebook messaging system. This was discovered by Mashable and the news has managed to make its way into renowned newspapers and journals, including The Guardian and The Wall St. Journal.
Well, Facebook is surely not desperate for funds by advertising to users that they can pay to get Mark Zuckerberg to read their emails. In fact, Facebook wants to find out how much are users willing to pay, or so it looks like.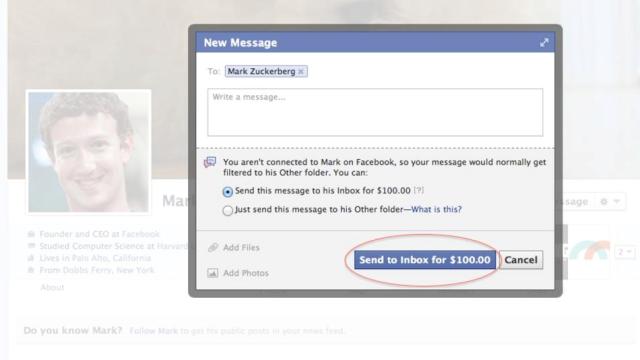 The article goes on to mention that Facebook is using this tactic to test how high users will be willing to pay to keep spam out of their inboxes. Facebook had announced in December 2012 that users can pay to send a message to other Facebook users and this message would reach the inbox of those users. This feature allows users to communicate with other Facebook members, who they are not friends with.
Don't Miss : Possible Negative Impacts of Facebook Advertising Changes
Previously Facebook had strict settings that gave users control over the messages they could see. However, the social networking site has made changes to its inbox privacy settings, giving users more filtering options. The basic filtering allows users to view most messages from friends and other acquaintances, while the strict filtering option allows users to view messages just from friends.
By making changes to its inbox privacy settings, Facebook will be using its own filtering technology to determine whether the messages should reach your inbox. Once this is determined, the messages are sent. The previous system used to cause users to miss messages as they could end up in the Other inbox that majority of Facebook users seldom check.
Besides making changes to the inbox privacy settings, now Facebook has introduced a way for users to message people, who are categorized as non-friends. Availing this facility would require the users to pay a small fee. The fee has not been set as yet, and if rumors are to be believed, the prices for sending such messages could start as low as a dollar.
The Internet industry has been contemplating a long time to charge senders a small fee for each email they send. It is felt that by doing so, the amount of spam reaching people's inbox will reduce. However, this is not the basic concept behind Facebook's emailing system. Facebook sees it as a way to communicate with other users privately.
Don't Miss : How To Protect Your Facebook Account | Facebook Tips
While it makes sense to charge a low and nominal fee like a dollar for sending emails to non-friends, it goes without saying that Facebook would charge a much higher rate to send messages to VIP members, like Mark Zuckerberg.
It should also be pointed out that currently the offer to email Mark Zuckerberg is an experiment and one does not know how long it will last, considering the attention and the media hype. Once thing though is clear that Facebook would need dynamic pricing, and take a second look at the number of friends, friend request, profile views, subscriber count and how often are people trying to contact famous people through Facebook. Perhaps the social media networking site also should take a look an reliable external database to determine who the site should increase the price for.
This brings us back to the starting point – how much are people willing to pay to send an email to Mark Zuckerberg directly and what would people say to him once they have his attention?
Author Bio : Anto Dominic writes article on Tech tips and tricks on windows , Facebook  web security and SEO. He has also written another detailed article on Windows 8 Metro App Development at his blog. If you have any doubt regarding how to get started as a windows developer , you can contact him.