Links are the arteries along which the blood of the Internet flows. They are an essential part of both SEO and user experience. They also have a pesky tendency to end up pointing at nothing if you don't keep an eye on them. Content is deleted or moved all the time, and the links that point to where it used to be are a missed opportunity. We're going to have a look at how you can find and fix both inbound and outbound broken links.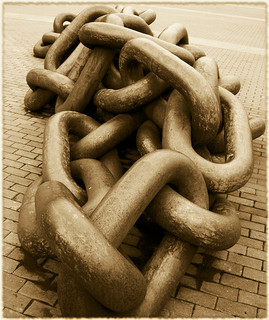 Finding Broken Internal And Outbound Links
Internal links are those that link between the content on your site. Outbound links are those that link to other sites on the Internet. Broken internal and outbound links are both a user experience and  SEO issue (although not as much of an SEO issue as broken inbound links).
It looks bad to visitors if the links they click on return nothing or a 404 (Not Found) error. We'll have a look at a couple of ways of finding them.
Broken Links Checker
Broken link checker is a very handy plugin than will scan your site for links, and then check if they are broken. It displays the results in the dashboard and offers a number of ways to fix the problem, including removing the link or editing it.
Use An External Crawler
A web crawler is an application that traverses a website by following every link it can find. Crawler applications are similar to the software that Google uses to build its index of the web, and they're a great way to check your site for broken links. There are a few freely available crawlers, but we've found Xenu to be one of the best – it's used by a lot of SEOs.
Xenu is not the most user-friendly piece of software in the world, but its nearest competitor, Screaming Frog, isn't free unless you have a tiny site with less than 500 links. Xenu will crawl through your site and report back on any broken links it finds.
Finding Broken Inbound Links
Inbound links are links that other sites have made to your site. Broken inbound links are a significant SEO issue because the number and quality of incoming links has a huge effect on search ranking.
Finding them is the mirror image of finding broken outbound links. First, you have to send a crawler out to find all the sites that have linked to yours, which means checking most of the Internet, and then testing to see whether any links it discovers are broken or not. Unfortunately, this is an impossible task unless you have enormous resources.
Fortunately, some people do have enormous resources, including Google, who make this information available to you via Google Webmaster Tools under the "Health" menu option.
Fixing Broken Internal and Outbound Links
This is fairly easy once you know where they are. You can edit the links directly so they point to where they are supposed to, or you can delete them with Broken Links Checker.
However the first thing you should do is acknowledge that broken internal and external links are going to happen sometimes, and create a friendly 404 page for when they do. Remember the Twitter Fail Whale? That was their 404 page. Your theme might make this easy, but if not check out this great tutorial on creating a less annoying 404 page.
The other option is to use the 404 Redirection plugin, which will automatically redirect all your broken internal links to your homepage in a way that preserves Pagerank (mostly). We're going to talk in a bit more detail about redirects in the next section.
Fixing Broken Inbound Links
This is a bit more tricky, since you don't control the origin point of the link. Your first option might be to email the webmaster of the site in question, and ask him to put it right. If you're lucky, you'll find a webmaster on the other end with a kindhearted and generous disposition and a lot of time on his hands for fixing typos in links – unfortunately, that's not often been our experience.
If you find a manageable amount of broken inbound links, you can redirect them to where they are supposed to go, or to your home page with a 301 redirect. 301 redirects are permanent redirects that let search engines know that they should treat the page you are redirecting to as if it were the page that the broken link points to. That means Google and the other search engines will keep the link juice from the broken link flowing to your site, which they otherwise wouldn't.
One way of doing this is to add redirection rules to your site's .htaccess file, which requires a bit of technical know-how. There's a good tutorial about this on at the Internet Marketing Ninjas blog.
A much easier way to do it is with the Redirection plugin, which allows you to set up 301 redirects very simply from within WordPress. It also has some nifty additional features like automatically adding 301s when you change the name of a page.
Often though, you'll find hundreds or thousands of broken links, each of which has a different misspelling or other error. It's usually not feasible to fix all of these, so you'll once again have to fall back on a friendly 404 error page that offers a search box and links to other areas of your site in the hope that visitors don't immediately bounce when they can't find what they're looking for.
Image credit: bockbilbo