You are reading this post, it means you are aware about the importance of images in a blog post. You don't need to be any kind of expert to know it. We all know the fact
Images say a thousand words
Are your images saying those words?
Do you think that image is worth your post?
One of the biggest mistakes which any new blogger makes is he only concentrates on writing and ignores other factors which play a major role in making the post go viral. In this mistake the biggest convict is Google image search. I know many blogger which after completing a post directly rush to images.google.com and search for a relevant image.
And hey! They get it.
The more disastrous fact is they use it in their post.
Which is surely not a professional's thing to do; every professional blogger prefers images from image directories. Professionals do it means there must be a rock solid reason to do so.
This post is also about such stock photo service which according to me has one of the best collections on the web.
Depositphotos.com is a site which you will surely come across when you Google about image directories for bloggers. Is it worth your sign up? By the end of this post you will get the answer to that question.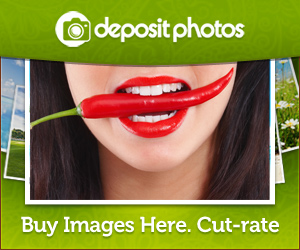 Let us just go through some trivia,
Like other directories you can create two types of accounts i.e. contributor or a Buyer.
If you are a photographer then it is a good place to some bucks by selling your photographs via your contributor account and as a buyer you can get any image of your choice at a fair price.
First Impression
Depositphotos is a service which I have heard about from many people and my first impression about it is quite positive.
Looks, Quite good looking homepage but when you login as a buyer it isn't that attractive. Its simple navigation and search options one the sidebar and the top give it a simple user interface which isn't quite impressive compared to its competitors.
Quality
Other than looks what matters the most is its service as a buyer you get access to millions of stock photos and royalty free images by access I mean you can browse through all of their archives and buy the image which suits your need. Which I think is a fair deal.
From the contributors point of view they pay a decent price for your hard work but getting your image approved in the directory is not simple as they have some strict guidelines for contributors to maintain the quality of their directory.
Pricing
The third factor which we are going to discuss is the price, for the contributors the higher the price the better but buyer might find their prices a bit high. Although at a first look their plans are quite attractive for both buyers as well as contributors.
Buyers can download photos under two type of plans, subscription and pay as you go
In the subscription type plan you buy a whole subscription of a specific price and as you download you are charged per image and charges vary according to the size of image you want. In the second type of plan you buy credits for a price and get photos in exchange of those credits.
Contributors are judged according to no. downloads they have served with their images, they are ranked in five levels i.e. Green, Bronze, Silver, Gold and Platinum and according to their rank they are paid the share or price of the image.
Pros
Millions of Photos to check out.
Each image promises high quality.
Images are royalty free, no legal worries.
Properly categorized and easy to navigate collection.
Fair price for buyers and contributors.
Cons
New bloggers might find it expensive as compared to their income.
Looks are not much appealing.
My overall rating for Depositphotos.com- 4.5/5.
Over to you
The above was my review on depositphotos.com and according to me it is worth your every penny and if you can manage a paid image provider then you should choose it. But if you can't then there is an alternative for you, you can try their free photos program for bloggers and site owners and you get a subscription for FREE.
If you are not a photographer then you can make money by their affiliate program and the best part about it is in this deal there is no middle man you are directly dealing with the company for the affiliate and the prices are fixed for small and big publishers. The only requirement to participate is you should have a photography site.