Unless you're running your blog as some sort of charity or experiment, you probably want to improve your conversions. For the uninitiated, conversions are any action that you want a user to take after landing on your page.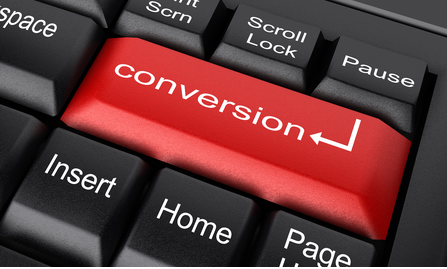 A conversion could be something as simple as clicking on a link to another article, or it could be as complex as adding an item to a shopping cart and completing a purchase. Whatever action you need your user to take after landing on your blog is your desired conversion.
While you may have some tools in play that help you track your conversions you probably don't have anything running that can help you figure out if you're getting the best possible conversion rate. Tools that do this perform what is called "split testing." Essentially, you have two versions of the same page and see which performs better.
There are literally thousands of things you can split test on your site. The one item with the biggest potential increase for conversions, though, is where you place links in the body of your post.
Implementing Split Testing Technologies on Your Blog
The most popular and effective tool for split testing is Google Experiments. It was once a part of webmaster tools, but recently became its own Google product. It is easy to install and completely free. The interface makes it incredibly simple to configure and track your split testing.
If you use popular content management systems (like WordPress) it is incredibly simple to get everything set up. Visit the Google Experiments web page for more information. Registration and configuration can be completed in less than thirty minutes.
Don't Miss : An Unorthodox Link Building Game Plan
How to Split Test Link Placements
Imagine you have the following blurb on your site with a link to an affiliate product:
"After I saw the movie Casino, I really developed a new appreciation for Joe Pesci."
Your instinct is to probably put the hyperlink on the phrase "the movie Casino" or somewhere around there. That might be getting some clicks (conversions) but might there be a better place for that link?
The only way to find out is by split testing the link placement. The first place most experienced bloggers would try is on the phrase "developed a new appreciation for Joe Pesci." Why?
It doesn't indicate to your reader that you are about to send them out to an affiliate link. If you're being a good blogger you already have your affiliate links masked and prettied up, so you wouldn't have to worry about your readers realizing that you're sending them to an Amazon product page and ignoring the link entirely.
That sure is deceptive, but it is also effective. This is especially true if you rely heavily on Amazon.com affiliate commissions for your blog earnings.
The way the Amazon affiliate program works means that you get paid more money for sending more people to Amazon on a regular basis. Anyone who gets there through your affiliate link and purchases any item during the next 48 hours will result in a payout from your blog.
There are plenty of other reasons you may want to vary the placement of your links for split testing purposes. This is just one of them.
Ultimately, split testing is a crucial aspect of any blog that is growing and improving. If you aren't implementing split testing you aren't doing everything you can to get your blog to the next level.