Though not the first online real-time strategy game, Space Settlers makes it the top choice for Sci-Fi RTS gamers to free play on iPhone iPad since its first appearance on Apple store. If you're addicted to multiplayer strategic gameplay, get this fast-paced iPhone game right now. With cutting-edge visuals and highly exquisite RTS gameplay, Space Settlers are undoubtedly the solid choice in terms of real-time strategy genre.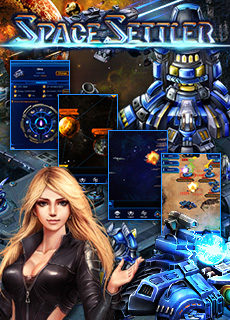 See more information about this online iPhone iPad game, please visit Here.
This online iOS-based game follows the prediction of Scientist Hawking who asserted that dark energy, named as "Dark Energy Crystal", was the most powerful energy source in universe since expeditionary force first brought it from ancient relic to the earth. With Terra abounded in the remarkable technological remains left by the ancient, numerous people headed for this place, and thereafter the First Space Settler Age began.
What Space Settlers superior to other similar game is that this online Sci-Fi game is packed with intense mecha combats and real-time strategies, taking online Sci-Fi gamers with an epic and breathtaking adventure. The gameplay itself is what you can most expect from this online iPhone iPad game, which enables you to build versatile mecha chariots with more than 100 accessories furnished, assault fortresses adventurously, master planets you conquered, launch action-packed battles, whether you're fighting for yourself or for your legion, etc., keeping you occupied with variety, intense and thrilling pace. What's more, the slickness and the simplicity of the game design and intuitive interface offer an easy and unique online Sci-Fi game experience for both veteran and novice.
Another noteworthy content that Space Settlers offers for real-time strategy games comes in its splendid graphics. Aesthetically, the visuals in this multiplayer iPhone iPad game are absolutely gorgeous and fantastic. If you've got an iPhone or iPad, this real-time strategy game will surely give you complete access to the impressive visuals, hear-reading sound and stirring strategic game for free on your gadget.
Anyone eager for indulging in online RTS game entertainments, seize the golden chance and get Space Settlers for free on the iTunes store at: Click Here.
YouTube Video: