Recently Samsung galaxy s4 crossed the sales mark of the predecessor galaxy s3, and recently I also bought a S4. Being an owner of a S4 is not a simple task,
Now you might be wondering, HOW?
The S4 is a powerful Smartphone to hold and if you have seen the movie Spiderman I am sure you have heard these lines
With Great Power Comes Great Responsibility
You need to take care of your phone until you are a billionaire who can afford to buy a new Smartphone everyday.
Flip covers for Smartphones have again come in trend and every Smartphone user wants to have one for his Smartphone because
They Look Cool, Official and they are Popular
The other reason why these covers have come in trend is because most of the times they hide the actual brand of your cell phone, if you have a cheap Smartphone and you have a flip cover with it which fits nicely no one would able to tell that you have an inexpensive phone 😀
Just Kidding!
Now let us jump to the core of the topic of the day, Today I am going to tell you about a flip cover available for the Samsung Galaxy S4
Now Plllllease don't ask me the question
What! A flip cover what is so special about it?
I also thought the same until I got to know that this flip cover for Samsung Galaxy S4 has a twist, there is a slot on the front of the cover
Here is an image of that cover, to help you understand what slot I am talking about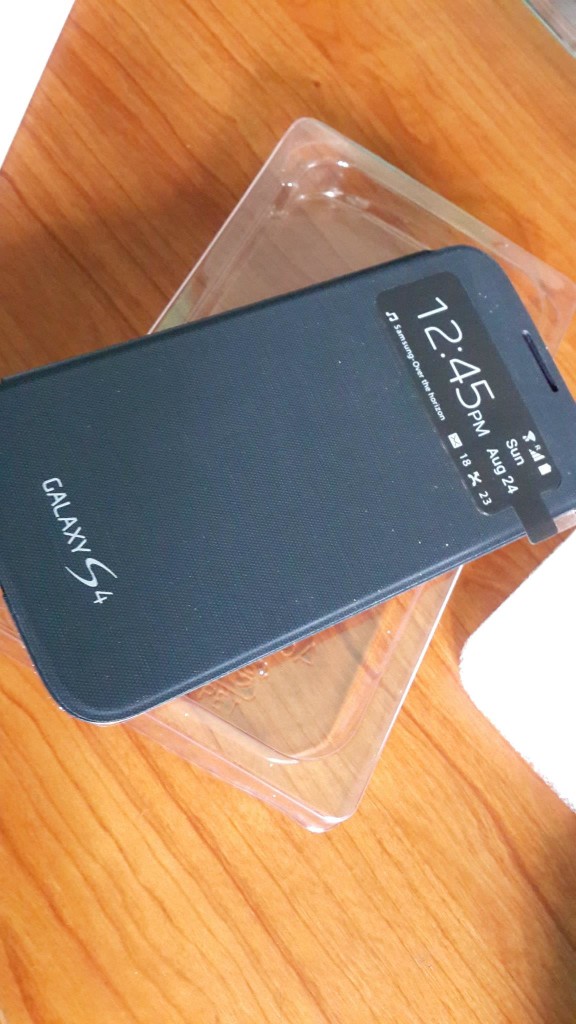 That small slot on the front might appear a small change to you but it is a really cool change
How?
Imagine a situation
When you receive a text message on your Samsung Galaxy S4 and you have the traditional flip cover attached to it
Now when you receive a text message you first need to take out your phone, open the flip cover and read it
Which takes some time and if the message was useless you feel like all your efforts in taking out the phone and opening the cover went in vain
That might sound stupid but most of you feel this way, this small change in the flip cover design can help you with that regret
You just take out your phone and there you just see who has sent you the message, if its important to open the cover and read it, if it is useless just returning to your work
The same is with the calls you receive
Being Honest, it has a disadvantage which might trouble you
The section of the screen which is uncovered will regularly receive scratches and fingerprint marks
The rest of the section automatically cleans up the screen because the front part has fur on the inner side
The cover is built with durable, high quality synthetic materials and can bear high drops.
Conclusion
As I every review I give you a conclusion with my verdict and my review score so here it is
Overall this flip cover is really nice piece of work, As Samsung Galaxy S4 has gorilla glass the disadvantage in this cover shouldn't be a problem for you. It will fit properly on your phone and is a quality product so it is a nice deal to buy one for your phone
My Overall Rating: 4.5/5
That's great Amit, but where can I get one for my phone
You can get the Samsung Galaxy S4 S View flip cover from MobileFun.com at a price of $41.99 directly delivered at your place.