Have you ever lost your contacts and photos of your family on your Android Smartphones such as Samsung Galaxy, HTC or other brands.If you unfortunately meet this problem,you don't need to be panic since your contacts and photos can be recovered by some Data Recovery Software,like Wondershare Dr.fone for Android.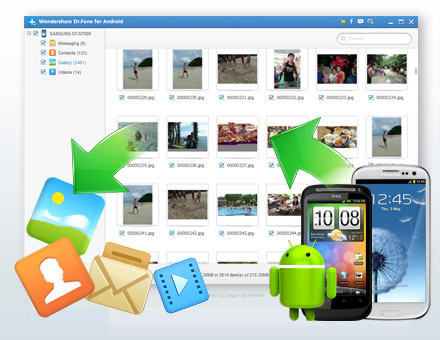 In July,we now launch a new giveaway for Wondershare Dr.fone for Android for free to our members. Three copies of free licences keys will be given away.
Now let's see what it can do for us,
Here are 4 main functions that helps Android users to recover their important data.
1.Retrieve your lost contacts
2.Get back your deleted text messages
3.Recover your precious photos
4.Export your lost data to your PC
The newly released Wondershare Dr.fone for Android is the world's best app for data recovery on Android smartphones. It includes some amazing features that will make sure that you never lose any data from your phone. You can recover contacts from Samsung Galaxy or SMS, photos or videos which may have been accidently deleted from your phone. If you have lost data from your SD card you can recover photos, videos or even recover deleted contacts from Samsung or HTC. You can directly scan your phone by connecting it to your computer and export the data into HTML so that it can be easily read and printed from the computer. You can browse through the existing data and resynchronize the phone with your computer.
Visit the product page here: http://www.wondershare.com/data-recovery/android-data-recovery.html
This app provides you the option of previewing the entire deleted data and selecting the only the data you want to restore back to your phone. It also allows you to recover contacts from Samsung Galaxy or recover deleted contacts from HTC that were lost due to restoring the factory setting or rooting or flashing the ROM. The best feature of this app is the seamless connectivity; it supports multiple devices from Samsung, HTC, Motorola, LG, Sony, etc, and it supports various OS versions of Android. Every day, more and more devices are being added to the list of compatible devices that can benefit from this amazing app.
Want to Join our Giveaway?
This app is available in market for $49.95, but it is offered for free in the giveaway event. The rules of the giveaway event are very simple and straight forward; Anyone can take part in the giveaway event. All the readers who have taken part are required to Share the Article on Facebook, Google Plus and Twitter and leave a quality comment along with their email ID and Shared Links. From amongst all the email IDs, the Webmaster will randomly select three winners that will receive this app as their prize for their comments.
(Giveaway Ending Date : July 11)