Social Media is a platform capable of destroying a brand image completely, at least online. This is also true that social media is the only medium in today's era which gets you heard easily but that doesn't mean you can say or do as you please. What about trying not to be offensive or hurt someone's sentiments? Especially when it comes to a customer – brand relationship. You wouldn't wanna angry your customers but sometimes it happens due to lack of tiniest mistakes like lacking common sense is a very common problem. So let's discuss a small but potential list of factors why brands fail to retain their image on social media.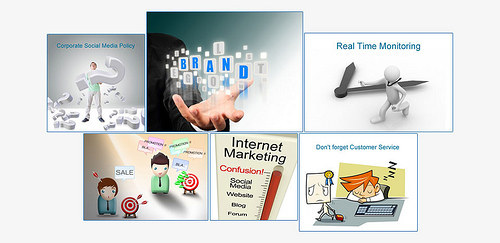 Is Your Corporate Social Media Policy in Place?
Unfairly limiting the employees from using social media is an irrelevant habit practiced sometimes by employers because using social media is a necessity for every business and it's employees for better communication and customer relations. But exchanging information that isn't meant to be made public, I guess we are back to the common sense question.
The most basic aspect of a policy should be that every employee should mention their names while they tweet or post a status and should not be associated with their company. They should make it clear that whatever they post is completely their opinion and not the company's. If so found, the employees should discuss first with the social media handling department and then posted with your opinion and name to it. In short, is your brand (business) and employees are respecting the policy and are they maintaining their corporate social responsibility? The answer to that determines whether the corporate social media policy is in place.
Social Media Monitoring : Real Time Or …?
Monitoring your social media initiated strategies on a real time basis has been the most effective way to measure what users and customers want to see on this platform and how you plan strategies for further implementation. The most important factor being the monitoring on Real Time Basis. No one wants to see or know an age old news unless it's again newsworthy. Consumers use social media platform as their power of conversation and hence they need the information then and there. If your company is going to launch a new campaign of a product/service you should plan and approach beforehand and monitor the conversation on real time basis.
Are You Overly Promoting Yourself? Seriously!!
Yes, as a matter of fact, this has been told a million times but some brands don't seem to care. Promoting your brand over the top may be a good idea on other mediums but definitely not on social media platform. Your consumers shouldn't feel that you are boasting it. Let them speak up for your brand. Of course, your brand is a market leader and hence you need not promote it too much. Consumers will provide feedback, use your product and like your status. Just let your promotions glide with ease.
Outsourcing SMM from Irrelevant Service Providers…Not Done!!
The most important factor that will definitely kill your brand on social media is this one. Hiring a Social Media Management firm that has no idea about your brand/product, has never worked in your product niche and has no idea what consumers want to listen or see about your brand, this will kill your brand image too. Hire an agency that understands your product, knows your target audience or hire a department for your brand itself.
Are You Listening To Your Customers? Absolutely Needed…
Responding to your customers and people engaged in activities related to your brand on various social media platforms is the best way to monitor how your brand is doing and what new can be introduced to satisfy user's queries. Social Media platforms prove best when it comes to customer service which helps you enhance features of your brand and make it popular organically. Since, social media is the most contagious medium to spread the word around so you better try to make it positive and your brand will gather likes and tweets never achieved before. Virality comes with originality so keep your ideas original and of viral nature.