As we know that the Samsung galaxy s4 is the most selling smartphone by Samsung, its immense popularity has also brought up a huge demand for accessories.
More and More people now own an S4 and most of them are hungry for new accessories.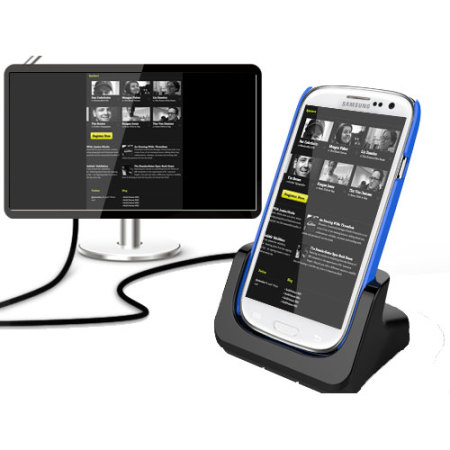 It is believed that a phone without accessories is just like a bowl of noodles without spices.
Though the manufacturer already builds in a lot of functions in a device the demand for accessories has always gone it, whether it is headsets, covers, cases etc.
Today in this post we are going to discuss one such amazing accessory for the Samsung Galaxy s4
In this post, we are going to talk about a charging dock for the Samsung Galaxy S3 and S4
A charging dock is nothing much special but a charging dock with HDMI support is really something to try out
Charging docks are not so common in general as most people still prefer the conventional wire and the box charger for charging their portable devices
People who are using a charging dock find it really useful as it takes the job of attaching a charger to your phone, just keep your phone in the dock and it starts absorbing energy
The other best part about a charging dock is that it looks good on your table, isn't it
Now what about the HDMI Compatibility, This dock allows you to connect it to your PC Monitor or your TV and watch movies and listen to media from your mobile phone
If I summarize, here are few reasons why you should try out this awesome accessory
Charger + HDMI Connecting Port
It Works with and without a Case
Easy and convenient
Stable and Secure
These were the outer or general features of this charging dock, here are the details for geeks
Net Weight: 90g
Dimension: 140 x 50 x 30 mm
INPUT: DC 5V/1000mA – USB 5V/500mA
OUTPUT: USB: DC 5V/500mA – BATTERY: DC 4.2V/500mA
Those were some pros of this accessory, and we know that nothing is perfect
This Charging dock has some problems which I don't like
It is Slow- In the time your conventional charger will charge the phone totally this dock will only make it until half in that time
And I think I forgot to tell you that it is a compact sized gadget so it won't cover a lot of space on your table and is useful too.
Conclusion
As I every review I give you a conclusion with my verdict and my review score so here it is
After looking at this gadget if you forget about your girlfriend then it is a must try for you. While if you don't use the HDMI port or you think you don't need it than spending $32 on it will not be a good idea
Overall this charging dock is a really nice piece of work. Except the fact that it charges the phone slow everything else in this gadget worth the money. It will be good for people who come from the office, drop in their phone for charging the whole night and leave the next day and repeat this schedule. Your phone will fit properly and is a quality product so it is a nice deal to buy one for your phone
My Overall Rating: 4.5/5
That's great Amit, but where can I get one for my phone
You can get the Samsung Galaxy S3 / S4 HDMI Compatible Charging Dock from MobileFun.com at a price of $32 directly delivered at your place.