Search Engine Optimization (SEO) is a hot topic because search engines update their algorithms almost faster than developers can keep up with them. SEO success is all about adapting and evolving. Update your pages often to keep them in line with the latest trends, and try these tricks to improve your page rankings now and .
Submit an XML Sitemap
Creating an XML sitemap is one of the best things you can do for your site's SEO. Without a sitemap, you'll have to wait for Google to naturally crawl the site. It does this by following links, so a site that's low on incoming links can languish in the dark undiscovered corners of the Internet for quite a while. A site map is like a gilded invitation to all the wonderful content your site has to offer. In addition to a list of all your pages, you can also include meta data and details about media such as videos and pictures on your site.
Utilize Meta Data
Google no longer relies on meta data for search engine rankings, but you're missing out on a powerful SEO tool if you neglect to include this information on your pages. Google and other search engines still display your meta description on search engine results pages (SERPs). Just imagine browsing your search results and comparing a page with a descriptive tag to one that shows a few confusing lines of text pulled from the article. Search engines other than Google still use some meta tags for their search algorithms as well. Maintain your meta data for the best SEO possible.
Create High Quality Content
A few years ago, you could dupe Google into giving your page great rankings simply by plastering it with poorly written copy stuffed with keywords. Google has since caught on to these cheap tactics and now punishes pages who use them by ranking them much lower. If you want your page to rank high, you must offer truly valuable content. You're no longer engaging a mindless web crawler. Your content must engage the reader and inspire him to share it. Google rewards pages that users share naturally by giving them high search engine rankings.
Check Out That URL
Great SEO is all about attention to detail. Your URL is your address and you want to make sure it's easy for visitors to use. A dynamic URL or one that's buried in folders is like giving out directions that are unnecessarily complex. Keep it short and clear. Include keywords in your URL and aim for an address that fits easily in the navigation bar so it doesn't get cut off when users copy and paste.
Get Mobile Optimized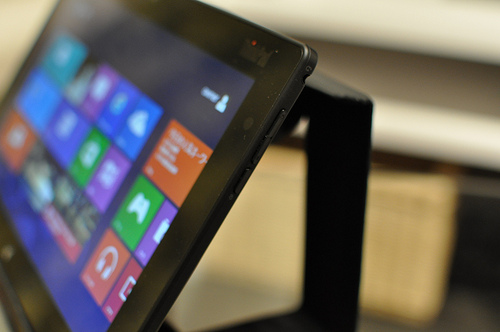 Image via Flickr by TAKA@P.P.R.S.
Mobile optimization is one of the biggest trends of 2013. According to a Cisco study, mobile data traffic increased 70 percent globally in 2012. Connection speeds on mobile networks more than doubled and smartphone usage increased by 81 percent. New technology like Lenovo tablets make it easy for users to browse the Internet anywhere there's a connection. Tablets generate more than twice as much traffic as a smartphone. Responsive web design is the best choice because it helps your site look its best on any platform. Lacking this, a separate mobile optimized site is the next best thing.
Build the Right Kind of Links
Like content, links were once mass-produced cheap and dirty for the sole purpose of boosting search engine rankings. Once again Google caught on and punished the offenders. You must have genuine links to your site to boost SEO. Try guest blogging for others in your industry or building a social media presence to share your content. Link to other quality sites and reliable blogs and they might return the favor. Most importantly, create a page that's worth linking to. If you build it, they will come.
Follow SEO Developments
Search Engine Optimization tactics are always changing, and you must change with them. Monitoring Google's latest developments and staying up-to-date with the way social media sites are growing and changing is a full-time job. If you want to stay at the head of the SEO game, assign someone to continuously tweak your site, update your content, research your keywords, follow your competitors, and check the changing winds in this volatile climate. You'll be rewarded for your diligence.
As you're optimizing your site, remember to stay flexible. Rigid rules are the death of a good web page, but a fluid strategy that's always changing can keep you at the top of search engine rankings consistently.