When it comes to the DVD audio compression standard, the two terms, AC3 and DTS, are generally mentioned. Many old DVD players don't offer the AC3 & DTS decoding feature, that's why there is no sound when you play some of your newly purchased DVDs on an old DVD player. Today, all DVD players available in electronics stores are marked with "Double Decoding Player" which just means the AC3 and DTS audio decoding.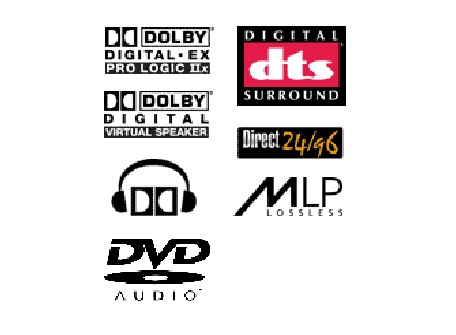 AC3 (Dolby Surround Audio Coding-3)
AC3 is a traditional surround-sound system developed by Pioneer Corporation (Japan) and Dolby Library (USA) in 1994. We often call it Dolby Digital. The Dolby Digital AC3 system contains 5 pure frequency domain channels and 1 ultra-low track, therefore, it is called 5.1 channel. The 5 channels include "left channel", "central channel", "right channel", "left surround channel" and "right surround channel". The frequency range of all the 5 channels is 3-20000Hz. The sixth channel (i.e. the ultra-low track) contains some extra bass information which makes the sound effect of the explosion or impact better. The frequency range of the ultra-low track is 3-120HZ.
DO NOT MISS: Review – ASUS SDRW-08D3S-U External DVD Writer
The data traffic standard (i.e. audio bit rate) of the two-channel AC3 audio is 192Kbps while the 5.1-channel AC3 audio is between 384Kbps and 448Kbps with a 640Kbps top bit rate. Because AC3 standard has a reasonable audio compression ratio, many DVD producers use AC3 technology to compress the audio files, and then add the AC3-coded tracks to their movies and burn them to DVDs. If some AC3 sound tracks in a DVD movie strike your fancy and you want to capture them for your music player, here is a decent DVD content extractor may help you extract these tracks from the DVD.
DTS (Digital Theater Systems)
DTS was released by DTS Inc and Universal Studios in 2009. Technically speaking, DTS is totally different from any other audio processing systems (Dolby Digital included). Dolby Digital use the filmstrip to store or transport digital audio information, then it must adopt large numbers of data compression modes due to space limitations, and this will lead to the sacrifice of part of audio quality. DTS Inc uses a simple way to well solve this problem, that is to transport digital audio information to the CD-ROM, and then make the audio synchronize with the film with some technology. Thus, the storage space becomes large, and the data traffic (i.e. bit rate) can comparatively get high (the general bit rate of DTS audio is 1509Kbps and 754Kpbs which are far above the Dolby Digital AC3 audio's), also change the audio data stored in CD to play different language editions.
Finally, the sensitivity of people to audio is lower than to image. Medically speaking, the auditory system is not complicated like the vision system because about two-third functions of the brain are used to recognize images. If there are no suitable playing devices and direct comparisons, the sound effect of the well-made AC3 files and DTS files have little difference.