Recorded some videos that are not crystal clear enough? Don't worry! Here are some solutions to improve the video quality of any bad video that you have. All of these processes have different approaches it is up to you on which one to choose. Read on to get more information.
Method 1: Use professional video quality improver
The first solution is to use a professional video quality enhancer such as vReveal. It has powerful video enhancing features such as the ability to stabilize shaky clips, create panoramas, remove video noise, and balance video color and many more. It's also easy-to-use: all you need to do is hit the "One Click Fix" tab and your video will be fixed instantly. Another great feature is that it can turn a portion of a video into an outstanding panoramic image which can be seen on other video enhancing programmes.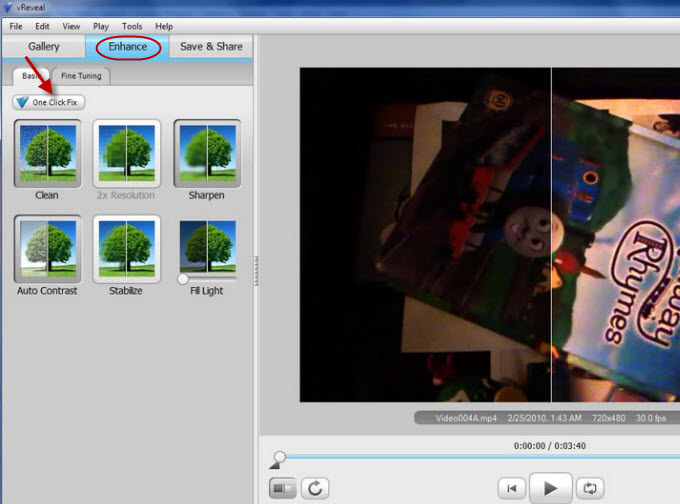 Method 2: Get help from video editing tools
Another easy way to improve video quality is to get help from video editing tools. Freeware like VirtualDub can help you fix a barely seen video into a clear one. With the help of different filters, this program can greatly improve video quality by removing unwanted objects, adjusting colors, applying deinterlacing and many more. However, this method can be a little bit complicated, since there are various filters that can be utilized and you should apply each separately to determine which combination of filters produces the best results.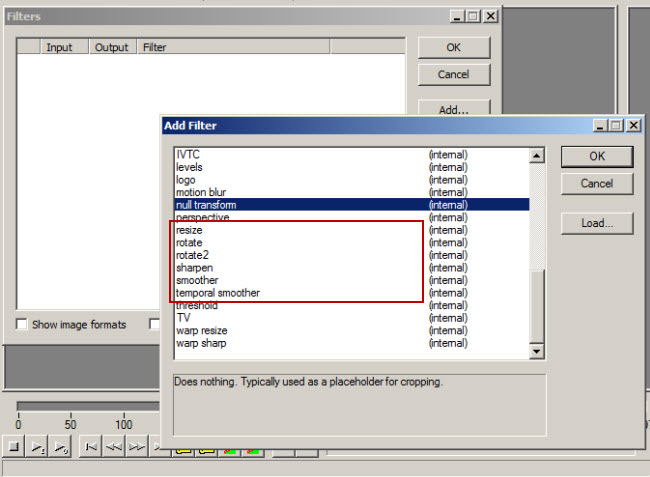 If you want to enhance the videos in a more effective way, using commercial applications can be a better choice. Here Wondershare Video Editor- an easy-to-use video editing tool is highly recommended. It supports a wide range of video formats including AVI, DV, DIF, NUT, H261, H264, NSV, FLV, MKV, MP4, M4V and more. It also includes the feature to adjust the brightness and contrast, hue or saturation to improve the light, shadows and color balance of a video file. With just a few clicks, you can improve the video quality with ease.
Method 3: Convert video to MP4 with the H.264 codec
The third way to enhance video quality is to convert it to a much more stable video format that is often used in recording and distributing high definition video like the MP4 video format (H.264 codec). When your video is converted to this format, its quality gets stable even after being uploaded on the Internet. This format will also make the video clip ready to be burned on a DVD for later usage. The conversion feature is also available in Wondershare Video Editor. Just locate the format options and select MP4 (H.264 Codec). The conversion will take place once you hit the "Create" button.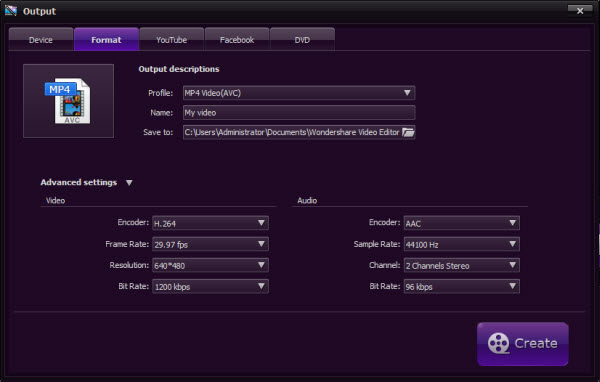 Here are the all the solutions to enhance your video quality. But on the other hand, you should notice that not all bad videos can be fixed using these tools and methods, because there videos may take from a really low resolution camera. In this case, change to a better quality video camera for a much vivid video output.