Private Branch Exchange, or PBX, is a telephone system that is used in the management of incoming and outgoing calls for a company's telephone users. The PBX system connects to a public phone service provider and is utilized to route calls throughout a company. The system is comprised of incoming and outgoing phone lines, and a computer server that is instrumental in routing the calls to the selected user.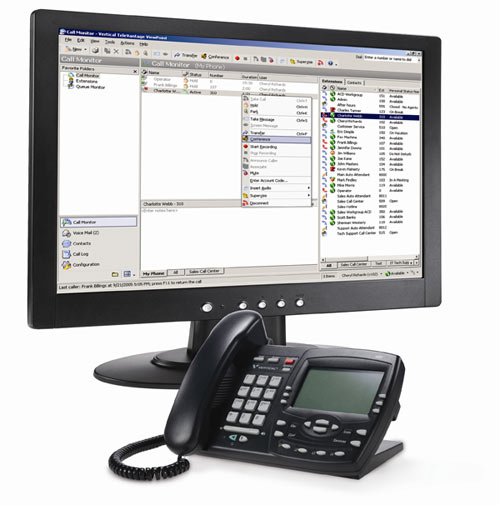 Benefits of a PBX Phone System to a Small Office
Integrating a PBX Phone System into your business can not only be a powerful tool, but also has a variety of distinct benefits. This system can connect your employees to each other, as well as connect them to the outside world. Additionally, it lets your clients and customers directly communicate with your work staff. The system is very useful if your company offices house different departments or if your company operates in separate building locations. One example of this might be a manufacturing plant that houses its executive and clerical functions in one building, while the actual manufacturing process is housed in a separate facility. There are quite a few more benefits though, some of which include:
The PBX Phone System establishes the sharing of telecom functions. As opposed to having multiple phone lines in your company to permit incoming and outgoing calls, the PBX system allows telecom connectivity to one central line and the system can branch it out into multiple user's extensions. Calls can be made directly to a main line and transferred via

human or automated operator

to the individual department or recipient. Additionally, your employees can make individual direct outgoing calls that get routed through the central number.  This is of particular benefit as there is no need to give out individual

employee's

direct numbers or have them register on caller ID.
Calls can be easily transferred between people and departments. There are many scenarios where a call may need to be transferred. In the event that a caller reaches the wrong person, the employee receiving the call can transfer it back to the receptionist to have it directed to the correct party. Or, if they know the correct party's extension, they can directly transfer it from their phone. Furthermore, there are instances where a client will need to speak to a representative from more than one department. The original call can be routed to the first department and handled as needed. When that

matter of

business is concluded the client can be directly transferred to the next department to finish their business.
Many useful integrated features. Your company's PBS Phone System can come with many of the popular and useful features that you would find from a traditional phone service provider, like: you can assign each employee their very own personal voice

mail box

; the call forwarding and call waiting features can be vital to business phone usage; and, finally, hold functions that can be used while a call is transferred, or when an employee needs to do some work function that requires the caller to wait for a period of time.
Scale usage and system size. Whether you have ten employees or over a thousand, the system can be installed to fit your needs. This is also of benefit to rapidly growing companies. As you expand, your phone system can expand with the company. For the time being, you might have ten to fifteen

employees each

with their own direct line. However, in three to five years your company might expend to over a hundred employees in a multitude of departments. This is far more convenient than having a phone service provider continually installing new lines as your company grows or requires more phone usage.
A Valuable Asset for Meetings and Conferences
If you run a small company with only a few employees, than holding meetings and conferences is a pretty easy task. You simply assign a time and everyone meets in a designated location to discuss the affairs at hand.
However, what if your company has hundreds of employees? It can be quite an involved process getting everyone together at once. Job functions may conflict with time frames. What about contending with lunch hours and breaks? Or how about the fact that it may be difficult or impossible to facilitate a space large enough to hold a singular meeting. What if people necessary for the meeting are located off premises or even in another state?
This can be easily solved by utilizing your PBX Phone System. Since all your business lines are integrated into one system, you can hold your meeting by telephone. Employees can call into a designated extension, at the given time, and become one large conference call. There is no need for employees to even leave their dedicated work space.