EaseUs is perhaps one of the most user friendly and easy to handle data recovery softwares there is. According to TopTenReviews, "Data Recovery Wizard increases the odds of recovering files by not only recovering deleted files but also files from damaged disks, from formatted disks and from memory cards or storage devices."  You are able to recover pictures, videos, audio files, documents and anything else you may have stored on hard drives, pen drives, memory cards, phones, or even music players.  It is extremely easy to use and can recover data lost due to deleting, partition loss or even formatting and all you have to do is download the software, install it, allow it to scan your system and let it restore the lost files.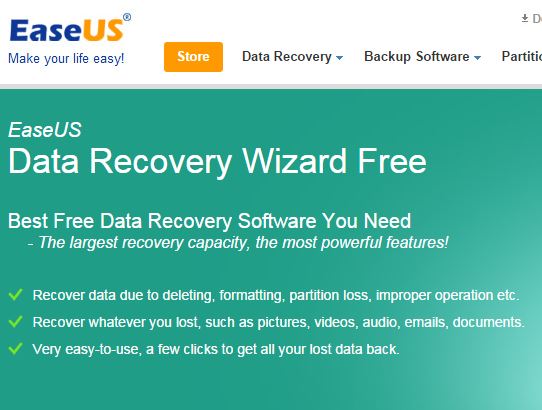 Pen Drive Data Recovery
One of its many features is the pen drive recovery software free download  available online. This software allows you to retrieve any and all files that may have been lost due to deleting, a virus or any sort of damage done to a pen drive or memory stick.
More Features
It basically recovers all files lost or damaged from any sort of removable USB drive from pen drives, Flash drives, USB drives, Samsung, Toshiba, Kingston, and a whole list of other brands thus making the product relatively universal and you need not search for other software to that suits a particular brand of removable drive that you own. It also recovers all sorts of files from jpeg, mpeg, midi, mp3, and PPT file formats, texts saved on MS Word or MS Excel or MS Access regardless of how the data was lost. It also only requires three extremely easy and uncomplicated steps to recovery this lost data. First is launching the wizard and selecting the files, second is clicking scan and third recover and the work is done.
Lost Partition Recovery
Another clever software recovery program is the lost partition recovery. The lost partition recovery program basically restores all files that may be missing due to deletion, a virus or bug or even formatting.
What is a Partition Table?
The partition is usually used for mass storage, saving and transferring on your computer. Whatever you have stored is can usually be viewed on the partition table, when this table is perhaps corrupted you will not be able to see it. This is where the lost partition recovery software comes in to play. It recovers whatever partition that may be damaged or lost and restores it.