Looks like thieves love delicious stuff. In old days theft were happening for grains, silver, gold, clothes and so on so forth. Then started the era of data and now there are more theft for data and personal information than gold or money. Today, everyone is much worried about data protection than vault safekeeping cash and jewelry.
Thieves are often found in crowded places. Today there is much crowd on Internet than in any other place on earth. Our mobiles and computers are notorious to attract thieves / hackers. Bandwidth is a blessing and hackers are equally blessed as you know 'God does not play dice.'
Protection is the best policy. To protect your data you can make use of VPN i.e. Virtual Private Network.
You do many things from home and office computers. If you are sitting over an open network, chances are someone is watching your activities without your consent. Your information could be misused by a thief / hacker. A virtual private network encrypts your connection. When your connection is encrypted, information travel from your computer to server / recipient computer over a secure network and no one can read your information other than you and server computer. This is how a VPN protects you from information theft.
Market is full of VPN providers. Here is my Review of Kepard VPN. It's available for Windows, Linux, MacOS, Android and iOS with 24*7 Customer Support. In my opinion this is one of the best encryption tools to safeguard your online privacy. The Kepard VPN comes under different protocols. You can choose your own; for example OpenVPN TCP, L2TP, default PPTP and OpenVPN UDP. It uses up to 256 bit encryption. The technology used by Keypard VPN allows you to use services like Skype, Torrent etc without any lags.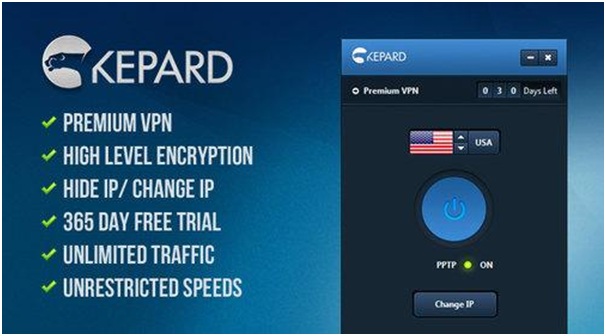 Want to get Kepard VPN?
Download Kepard VPN for Android from Google Play Store https://play.google.com/store/apps/details?id=kepardvpn.client
Download Kepard VPN for Windows http://www.kepard.com/download-kepard/
Availability
 At present Kepard VPN is available in following countries
Sweden
USA
Canada
Spain
Germany
Switzerland
United Kingdom
France
Not listed in the above? Wait for your chance!
Trial Version
You can download and use Kepard VPN Free for one full day. Just in case if you are not satisfied with the experience, you can do away with it. No obligation.
Referral Program
If you like the overall experience of Kepard VPN and want to use it for more days for free, just refer to your family and friends. You can earn 180 days of free usages simply by inviting your friends. Is not that awesome? To invite a friend follow the link [ https://www.kepard.com/billing/register.php?r=referrer ].
You can promote Kepard VPN through your blog / website and earn. Affiliate sign up is simple. Just create you Kepard VPN Affiliate Account. Get the link to insert in your text or use banners. Various banner sizes are available to suit your website layout. You will get affiliate commission up to 30%. They pay through Paypal.
Logs
The Kepard VPN respects its customers' privacy. They keep logs only for 3 days and then delete all logs permanently. Only private data they collect is your email id. This has been done in best interest of customers. Most the crimes in modern world environment happens using internet and just in case if something happens with Kepard then you are safe in absence of logs.
Kepard VPN Cost
The Kepard VPN offers you best prices. You get a lot within your budget. For a month of subscription you need to sell out only $7/month. If you want more, you can subscribe for 3 months at $5.66/month subscription. However, for annual subscription you can get VPN for $2.99/month. Overall the prices are reasonable and nowhere nearer to the losses can you accrue in case of information theft.
You can pay for Kepard VPN through Paypal, MasterCard, VISA or net banking.
The best part is you can cancel the service anytime and then restart subscription again. Suppose when going on holidays you can do away with the VPN for home desktop and start again when back.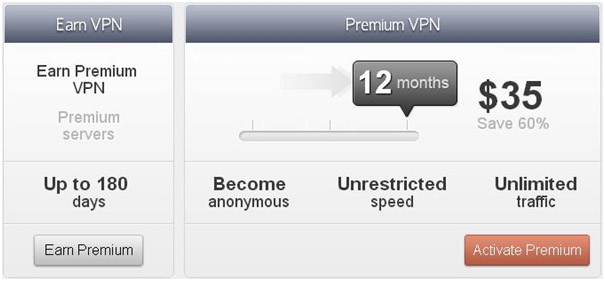 Refund Policy
Using Kepard VPN is free for 1 day. If you are not satisfied then you can cancel the subscription. However if you already have purchased Kepard VPN for a certain period of time but want to discontinue then too you can. If you cancel the service in the mid of the subscription period the subscription amount won't be refunded.
Features  
Basic Features of Kepard VPN are as listed below
Connect and disconnect your VPN connection with a single click
Quickly change VPN server locations and VPN protocols
Easy access to VPN configuration settings
Automatically detects a lost VPN connection and prompts to reconnect
Automatically updates new Kepard server locations
Setup Help
You do not need to configure anything manually while starting Keypard VPN. Just download and prompt for install. The automatic installer will do the rest.
However, if you want help in Setup of Kepard VPN for your device here is setting manual [ http://www.kepard.com/personal-vpn-settings/ ] Also you can count on customer support in case of any difficulty.
Usage Policy
Kepard VPN fully respect customers' privacy and expect from its customers fare usage. You cannot use Kepard VPN for any of the following purposes
Spamming (e-mail, Usenet, message boards, etc.)
Copyright, trademark, and patent infringement
P2P and Torrent activity on Kepard's servers, others than Netherlands servers.
Defamatory or abusive language
IP Spoofing
Illegal or unauthorized access to other computers or networks
Distribution of Internet viruses, worms or other destructive activities
Export control violations
All other illegal activities
Use of SMTP and SSH
Any activities which may result in Kepard service downtime
Customer Support
The Kepard VPN Customer Support works 24×7 for you. In case you have a query or trouble using it just login to your customer account and raise a trouble ticket. Someone from customer support will be happy to help you all time.
Kepard is also offering a limited period discount offer through which users can avail 15% discount on all Kepard Packages upto 15th June. The code to use is: KepardWelcome2016.