The application marketplace is widely known to be a highly competitive place for entrepreneurs to survive, especially it goes for newcomers. It is overcrowded by thousands of apps with pretty similar features. And as there is nothing new under the sun, to deliver your app to the market before your competitor does, becomes crucial for gaining success.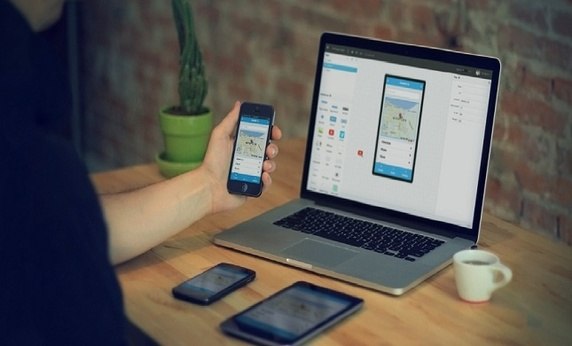 As Reid Hoffman, LinkedIn founder said, "If you are not embarrassed by the first version of your product, you've launched too late". In fact, the too late launch is considered to be the most common mistake of entrepreneurs in developing their own app.
So, you're a small or medium-sized business, and you need to introduce your groovy app in a short span of time. How one manages to do this without compromising quality? Hereby you find a comprehensive overview of the tools to get the app done with tight budget and deadline in mind.
Do-It-Yourself app builders
It is the quickest and most affordable way to create an app without having any coding skills. The Internet is flooded with different DIY app builders, thus you can easily find the resources that fit well into your budget.
DIY builders might ensure the support of the app's key features such as:
push notifications
social media integration
location-based services
loyalty programs
the ability to develop apps for Android devices, iPhones, and iPads
But keep in mind, DIY app builder could be considered as a viable alternative if you're not a perfectionist and limited by a shoestring budget. DIY app builders provide you with a what-you-see-is-what-you-get interface, it means you cannot customize your UI/UX design and make any alterations to existing functionality.
MVP (Minimum viable product)
Creation of MVP is another way how to get your app to early customers as soon as possible within tight budget.
Basically, MVP it is a version of your future app with stripped-down functionality and fewer features.
MVP helps make the app development process faster and identify possible problems on the go.
Providing the core features sufficient to deploy the app allows an app development team to reduce engineering hours and enable the app's quick launch to the market.
MVP not solely ensures the quick start but also helps gather validated learning about the app and its subsequent development. According to the acquired knowledge, you can scale your app strategy in general and expand its features in particular.
However, it takes some time even to develop an MVP because as a rule all its functionality and design are built from scratch.
Ready-made industry app solutions
A world of apps knows a lot of successful examples which every entrepreneur is dreaming of emulating while considering the development of his own app.
Time and again the development companies receive a big number of requests sounding like: "I want an app like Uber/Tinder/Whatsapp/Waze app".
As the apps from the same industry have common features, there is no need to reinvent the wheel.
Thus, for instance, The App Solutions, app development company, offers an interesting solution. Having created hundreds of apps for different clients these guys decided to put their expertise to create industry specific app solution for any business.
It is a set of pre-built modules with the essential app features. Such approach helps speed up the development process and significantly reduce app cost.
But there is nothing common with DIY app builders.
Despite pre-made functionality, you are able to use unique settings and customize an app design according to your brand identity. So no compromises on functionality or UX here.
Using the ready-made solution allows you to launch your app within days, not months without compromising quality.
Takeaway
And the last lesson here: which route to take is your choice. You have to weigh the pros and cons. Use DIY app builders which are a cheap solution but makes customizing your app impossible. Invest your money and time in the development of MVP and lay the groundwork for the future robust app and its improvements.
Or find the happy middle by using the advantages of ready-made industry app if your product is related to a well-known industry. Just note, caveat emptor.