If you have decided to switch from iPhone to Android, one of the things that you have got to think about, aside from the way the phone looks and feels when you start using it, is how to ensure you get to keep all your data and apps afterward.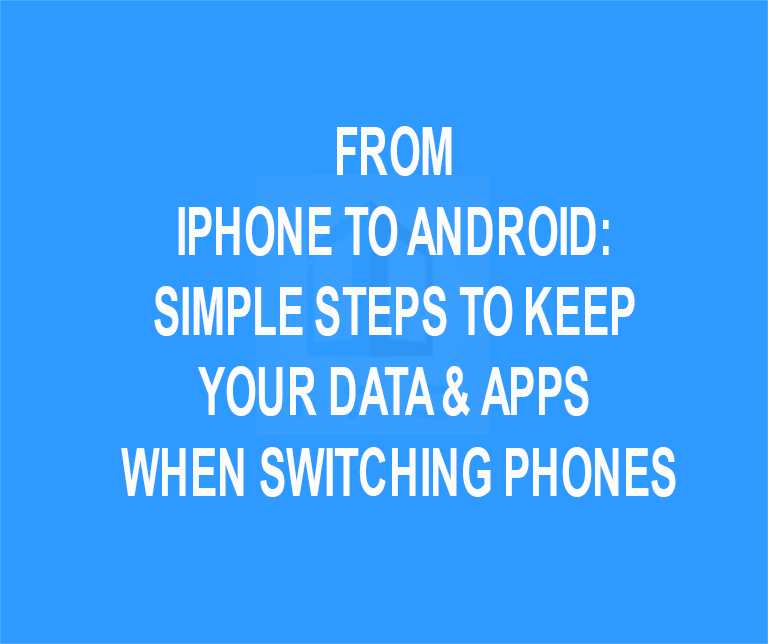 Here is a look at some ways to keep your data, as well as your sanity, when you swap from iPhone to Android.
Be prepared for a few obstacles
Let's be honest, Apple have a very high opinion of themselves and they are often convinced that their operating system and way of working is better than the rest, so they are not going to make it that easy for you to disagree with them and head over to an Android device instead.
You should be prepared to negotiate a few obstacles along the way as cultures and systems clash, but don't think that any of the problems you encounter are insurmountable, just remember, where there's a will, there's a way.
Migrating your music from iTunes and switching your photos and videos, just requires a bit of patience along with the know-how on what you need to do to achieve a seamless transfer.
Compatibility
Compatibility is not an issue with certain things, like the weather app by Apalon Apps, which can be download on either Android or iPhone anyway, but certain things like DRM protected content that you bought via the iTunes store, could present a problem.
With regard to the DRM protected content issue, for example, you should be able to transfer your music, but your attempts to transfer movies across, are likely to run into restrictions.
There are obvious compatibility issues that you may encounter with hardware like accessories and docks, but when it comes to transferring your contacts, there are ways to do this without too many potential problems.
Moving your contacts across
It is clearly important that you successfully transfer your contacts across to your new Android device before you do anything else with your old iPhone, like sell it on or recycle it.
There are several ways to achieve this transfer. You could use iCloud to do the job, by turning on contacts in settings, followed by a select all action then export vCard. Gmail will be the conduit for your contacts and when you head to Google contacts in your browser on your new Android phone, hopefully, you will see all your contacts appear, once you tap on the import option.
Getting in sync
If you have been using your calendar on your iPhone, there will be dates and appointments that have been scheduled in that you don't want to lose when you switch from your iPhone to an Android device.
The vital components in this process are Google and Gmail. You will find that Gmail acts as a perfectly acceptable bridge between both worlds, so if you can't give up your iPad along with your iPhone, you can sync multiple Google calendars, to keep everything as you want it.
Don't be daunted by the prospect of transferring from iPhone to Android, as it is often just a case of knowing which buttons to press to get the result you are looking for.
Tia Hancock knows her way around all the latest smartphone models, thanks to her job for a phone retailer. She shares her tips and knowledge around the web with her useful how-to articles.