The selfie craze has taken everyone with a smartphone by storm. Whether you love it or hate it, selfies have become an integral part of pop culture. Who doesn't click a selfie? Today, social networking sites are flooded with selfies of people. While the default camera that comes with your smartphone does a good enough job at taking selfies, you might want to improve on your selfie-steem. Today, there are several selfie apps available to die hard selfie takers that not only enhance your selfies but also provide highly user-friendly and customizable features for sharing the same. It is possible to save the edited photos which you can upload to Snapchat and Instagram, to surprise your followers.
Here is our list of 5 Best Selfie Apps for Android and iOS.
Retrica
True to its name, Retrica features over 100 unique filters, ranging from retro centric to saturating your selfies with warmth and a neon glow. As such, Android and iOS users vouch for the credibility of this app, making it one of the highest rated among all available apps in the market today. Users can access all its features owing to it being a free app devoid of any in-app purchases.
With over 300 million users, this app boasts of a simple user interface, packed with various features including turning your photos into collages, converting your photos into shots or video GIFs with a single tap and ability to shuffle filters and subsequently apply them to your photos.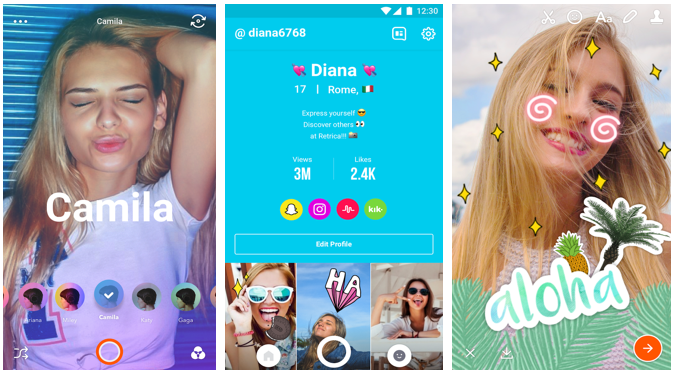 Get it for Android here.
Get it for iOS here.
B612 – Selfiegenic Camera
Developed by LINE Corporation of the popular messaging app LINE, this is another neat selfie app that has been specifically designed for selfies. This app has been downloaded over 300 million times the world over and vouches to create unique selfies that will overthrow the original inbuilt smartphone camera. With a variety of filters and stickers that can be superimposed on your face to boost your post's personality, it also generates three to six-second-long video clips. Other features include blur effect and aspect ratio.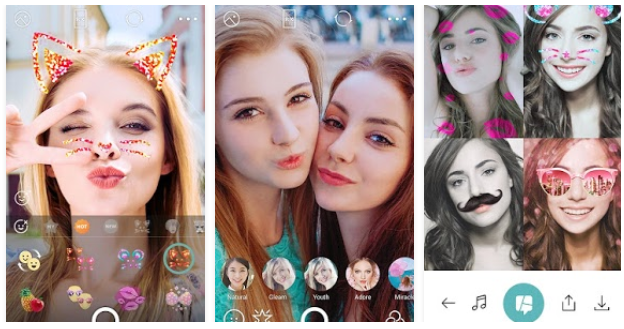 Get it for Android here.
Get it for iOS here.
YouCam Perfect – Selfie Camera
This app allows you to retouch photos and video selfies alike with a plethora of effects. Besides free features like reshaping your face, adjusting your skin tone, removing wrinkles and blemishes, this app also features in-app purchases. With other features like real time skin beautifying effects, using Body Slim to shrink your waist and look thinner and contouring your face, this app makes sure you share the most perfectly edited selfies on social media.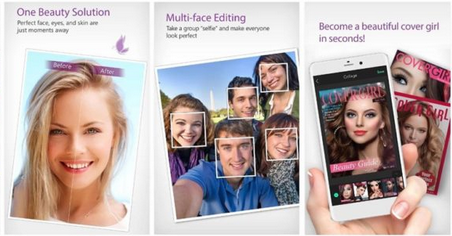 Get it for Android here.
Get it for iOS here.
Frontback
Besides being a selfie app, Frontback is also a social photo community. One of its special features includes being able to take a picture from the rear camera and a second picture from the front camera simultaneously, thus integrating them into a single photo. Instead of this feature, you can also opt to take a single picture. Adding more details into the second picture is an added bonus of this app.
Get it for Android here.
Get it for iOS here.
Selfie Camera
Specifically designed for taking selfies, this app is simple to use and has numerous filters open to the user. With features such as adding a classic vignette, real-time selfie filters, photo editor, interval timer and several modes like Selfie Stick and Square modes, the selfies that you take with this app are sure to stand out in the crowd.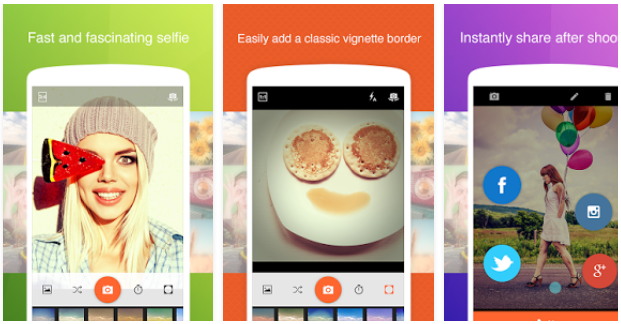 Get it for Android here.
Get it for iOS here.
We have picked out 5 of the best selfie apps compatible with both Android and iOS. Which one do you prefer? Say cheese!