The increase in the interest on Android Phones has become huge as Android Phones provide a lot more flexibility, features, and ease of use than other mobile OS. Android phones are also available cheaply than other phones and it is also one of the reasons, why they dominate the overall smartphone market in the world.
With an Android Smartphone in your hand, you can take hear your favorite music, see movies and also take as many photos you like. But there are instances that you could've accidentally deleted some precious photos and don't know how to recover those photos. You also don't need to visit a mobile service center as you have a lot of confidential information on your phone that you don't want to share it with anyone. So what would you do now? There's absolutely no reason for worry, as there is some software that will help you recover all the lost photos from your Android Phone.
TunesBro DiskLab for Android – the Ultimate Photo Recovery Software for Android
TunesBro DiskLab for Android is one of the best data recovery software that helps in recovering data from your Android Phone. With the help of the software, you can recover all kind of data including your messages, documents, videos, songs, contacts, photos and even your WhatsApp chat history to some extent. So by that, it means you can recover all kind of data in a situation when it gets erased from your Android Phone.
Tunesbro software has been designed to provide an easy to use interface and you don't need to reference manuals to understand the functionality of the software, as it is very simple and easy to use. It has also been designed to work with both Windows OS and Mac OS. You also have the option to preview the data you are about to recover.
Recover your Photos easily with TunesBro Disklab
If you have a backup of photos, then you have every chance of recovering the photos. But without backup, the chance of recovering your photos is very less and the only chance is to use some software like TunesBro Disklab data recovery software. You can recover photos either from your internal memory or from the external memory SD card easily. The preview option helps you to select only the photos you want to recover and leave out any unnecessary photos. Almost all major Android phones are supported with the TunesBro Disklab software. Now let's take a look on how to use the TunesBro Disklab to recover your lost photos from your Android device.
Download and install the TunesBro Disklab data recovery software.
Now in your Android Phone, turn on the USB Debugging" option. You can enable this option by going to Settings – Applications – Developer Options – Debugging
You also need to root your Android Phone before going for data recovery as it helps to scan all deleted photos (if you don't know how to root your phone, please check the internet to see how to videos to root your phone easily)
Now connect your phone to your computer using a USB Cable. In the TunesBro Disklab software, click the "Start Scan" button to start the scanning process to detect all the deleted photos on your Android Phone
The scanning process may take around 10 minutes to complete. Once the scan process gets completed, you can preview all the deleted photos. Choose only the photos you need and click "Recover". All the deleted photos will be recovered and stored in your computer system.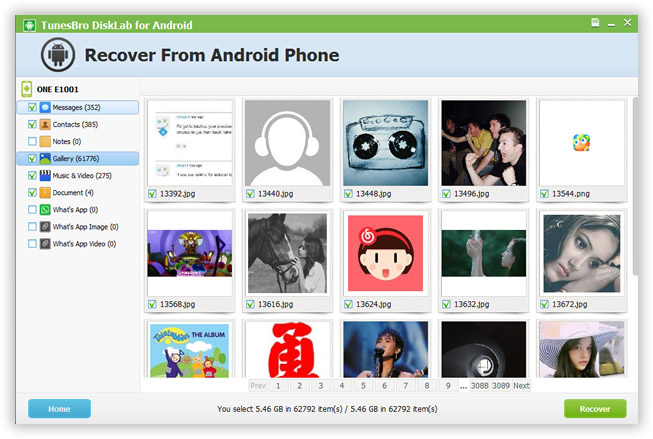 Conclusion:
TunesBro Disklab for Android is the leading data recovery software for Android phones. It not only recovers photos, but all types of data can be recovered using the TunesBro Disklab software. The software is free to download and install in your system and if you are photo freak, then this software is a must have one on your computer.