In case it was not in your interest to note, the business world is booming over and over with the gig economy. This means that people with a long-term single-employer contract is diminishing, and the number of freelancers and shot-term contractors is elevating. It is good for companies who are looking for flexibility in staffing as well as professionals seeking more control.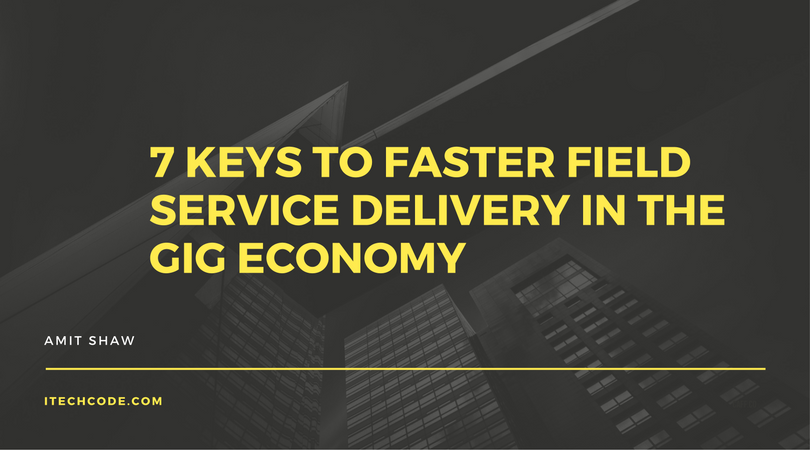 On my own accord, the current entrepreneurship boom is a key driver of the gig economy. This means that even a consultant or a professional is a solo entrepreneur. The good news is that every one of us can control what we do, how we do it, and when we do it. Bad news states that we must think like a business focus on finding clients, with all branding implications, and competitors as well.
If you want to join this direction in a rush, let us find more insight in the following development. We will look at how to facilitate and mentor independent contractors on helping larger companies before the coining of the gig-economy.
Solo entrepreneurs will always have questions like how to set the correct price for their services. The balance is determined by measuring the demand and supply. However, there are specific considerations that are key factors to faster field service delivery in this gig-economy. They include:
Avoid hourly rate to use project pricing
Commodity work is the best way to charge by the hour. For the creative and complex projects where you take many hours of thinking and complete the job, it is less predictable. Your competitive advantages are your work ethic, experience, and productivity. Use them to drive repeat business and increase your return.
Quantify values as price boundaries to the client
Keep in mind that it is not your pedigree that sets the price. However, it is the work. The one percent rule, as well as the rule of the thumb, should be your target fee on a daily basis. You can also target one percent of your yearly income as your target daily fee. Your pitch should quantify value to your clients like the product companies as opposed to the costs.
Factor your intellectual capital because it has value
If a gig is responsible for building your intellectual capital through connection to the future businesses and widening your skill base, you can be willing to take up the job for fewer amounts of money than you were willing to take. On the other hand, you can charge a higher price if a client needs your unique contacts and knowledge. Ensure you understand your competitive value.
Assess your variable and fixed cost per gig
Many solo entrepreneurs working for home services underestimate their correct cost because they don't think they are employees. This should be included in the office supplies and space, book keeping, training, travel, advertising, and many other services you can offer to the free world. It will be misleading to use the simple hourly rates.
Before setting a price, factor in project risk
If you have a riskier project whether it is due to aggressive goals, scope, and many unknowns, it should pay you more money. The number of competitors with enough capability to tackle the gig risk is diminished. Ensure you negotiate and evaluate each gig solo rather than advertising fixed prices.
Send special treatments to anchor clients
An anchor client is one that gives you endless business. He is the one who provides you with a stable income. It can be a mistake to increase yearly fees to match the new clients with the anchor clients. It's a good thing to have a predictable income.
Government contracts are not for the faint-hearted
Municipal, federal, and state governments are among the largest consumers of freelance and entrepreneurial services like the field service engineer. However, client acquisition cost can be high. Many require security clearances, insurance coverage, and a special license. Consider partnering with someone who has these qualifications.
While gigs have been focused on the skill spectrum low-end more best-in-class professionals are choosing this line of duty. You can get credibility with new digital platforms for top opportunities. However, it is your duty to win and compete in this line of duty.
Field Engineer
When telecom freelancers and engineers want to connect, the Field Engineer is their best solution. The company is obsessed with cutting through obstacles between the gig-hungry entrepreneurs and the ambitious businesses. Freelancers in the telecom industry use Freelance Engineer to connect businesses and corporations that hire them to unleash opportunities in this digital environment. If you are an ambitious freelancer in the telecom industry, Field Engineer frees you to succeed in the indispensable on-demand global marketplace.