Being a DJ can be an absolute blast but it can also take a great deal of time, effort, and money to stay up to date with the latest equipment and music trends. That is why it is important to be savvy and budget conscious so that you can afford to update your equipment when needed or add necessary upgrades such as new software from time to time. We realize that money doesn't grow on trees so we have formulated a list of DJ software that we consider to be a good buy while staying within your budget.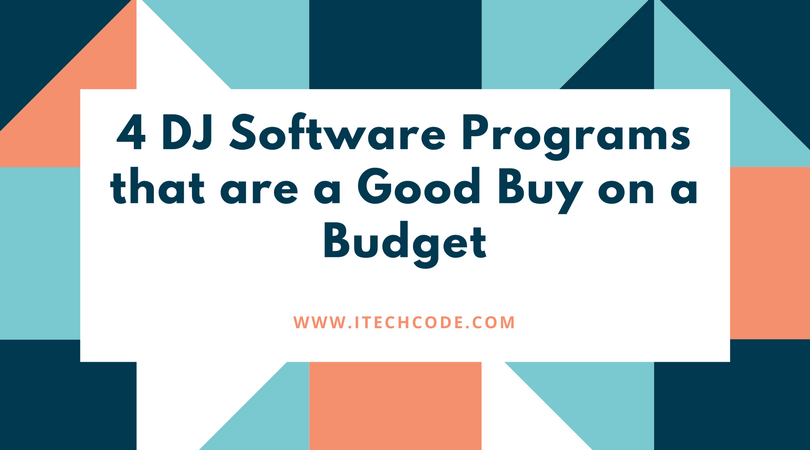 Image Credit : Canva.com
Mix Vibes Cross DJ Package:  Great for beginners, this software package is inexpensive and has a user-friendly interface which makes it perfect for those just starting out. While the software package is inexpensive, you will still have access to many great pro tools such as loops, filters, smart seek, and DJM EQ's. Another great highlight of this package is that it comes with 14 audio effects. This is the best package for someone who is just learning how to be a DJ and wants to pick up the trade quickly without getting intimidated by unnecessary or advanced features that are included in other packages.
Ableton Live 9:  This package is superb in that it offers a great deal of features and is loved by professionals all around the world. With Ableton Live 9, you can create anything and everything. If you can dream it, you can build it with this software package. While it offers amazing features such as style samplers, drum samplers, audio effects, and a virtual instrument package, the cost is relatively low for all that you get. If you have been DJing for years and are interested in trying your hand at producing tracks, this is a great software package to buy. You will immediately notice a great return on your investment.
Sony Sound Forge Audio Studio 10: Perhaps the most inexpensive package on our list, you still cannot go wrong with the well-known Sony brand. At an outstanding value, this software is best for those who are just starting out on the DJ circuit. With this software, you can record vocals, produce podcasts, create CD's, cut and splice different sounds together, among other great features. This software package is best suited for those who are interested in dabbling in producing podcasts and creating their own CD mixes.
Mixcraft Pro Studio 7: Another relatively inexpensive software package that is perfect for the intermediate to advanced DJ. With this package, you can produce and record music and use your computer as a fully functioning music studio. Perhaps one of the biggest highlights of this package is that there is 8900 royalty free loops included so the ability to make diverse tracks is no longer a dream but a reality. If you are interested in catapulting your DJ career to the next level, this is a great software package to invest in.