Maybe one of the most underrated security risk these days is the threat against our mobile phones by public WiFi networks, our mobile devices are practically storing our life data, images, contacts, location history, emails, passwords, social network data, App data like Whatsapp history and chats, the access to it can easily have a tremendous effect on our privacy, career and personal life.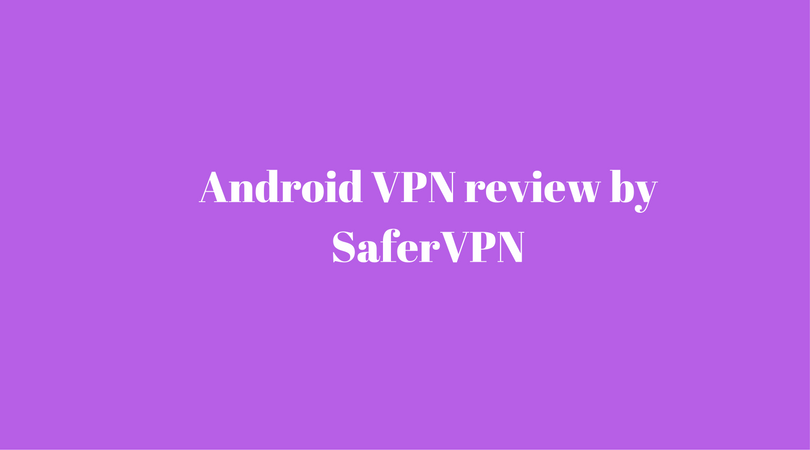 So securing our mobile phone and data is pretty much a necessity that we can't overlook or hope that nothing will happen to us, because statistically it's just a matter of time until we'd get hacked, or our data will be compromised somehow.
Reviewing SaferVPN's VPN app for android gave me these parameter test results:
Easily Bypass regional Internet blockage:
In Google play store there are apps that block specific geographic locations for different reasons, when using SaferVPN app, we managed to bypass any Geo restriction we encountered including accessing Netflix from the U.S, this is a huge advantage because most VPN software and apps are blocked by Netflix and using them doesn't help bypassing the geo restrictions set by Netflix. Hulu and other online streaming providers.
Speed and ease of use:
It is truly impossible to differentiate when using the VPN app and when not using it, the speed is practically the same, don't ask me how it's possible all I know that I could not tell the difference speed wise. For many users, this makes a substantial difference because of a massive use of VPN app any second counts.
Server locations:
A wide verity of server location enables the users to have maximum flexibility when surfing from a larger number of locations, however, more is not necessarily better, because it depends on the distribution mostly, if there are many servers form the same location it is less effective than a lower number of servers from a larger number of locations. SAferVPN has locations in 4 continents (America, Asia, Africa and Europe) and servers in over 50 countries, which pretty much covers all significant locations worldwide.
Pricing:
SaferVPN's home suite includes a full solution for both mobile (Android and iOS, Mobile, tablet and desktop Windows, Mac or Linux, all devices under the same account and the same price. The price goes as low as 3.49 per month for the 2-year package and is one of the top 10 cheapest VPN solutions for personal and small business.
Privacy: 
SaferVPN privacy policy states a no logging policy, which means that they do not keep any user logs for business or security reasons, many VPN software struggles with this issue because of legal reasons or because of App improvement data and reports, it seems that saferVPN somehow overcame to this obstacle while delivering a top-notch Android VPN app.
Special features:
SaferVPN's app includes a VPN Kill Switch that prevents any data leak if a connection is interpreted, this is a super effective tool that provides the user with 100% security and privacy when using the VPN app.
Crash report:
After extensive 3 month use with the Android VPN app, there were literally zero crashes, the only issue is that could be occasionally brief disconnections, it doesn't compromise privacy at all because of the Kill Switch feature.