There is no denying that the advancements in technology over the past decade have made living on this planet easier and more convenient than ever before. No longer do you have to do your banking via paper checks and stamps. No longer do you have to go to the store to pick up a book you have been wanting to read. No longer do you have to subscribe to cable television to be able to watch your favorite shows. In fact, you can do all of these things while sitting at home in your pajamas thanks to the advancements in technology over the past several years. In this article, we will dive deeper into how advances in software have made it possible for people to watch tv online with websites such as watchbritishtv.com from anywhere in the world.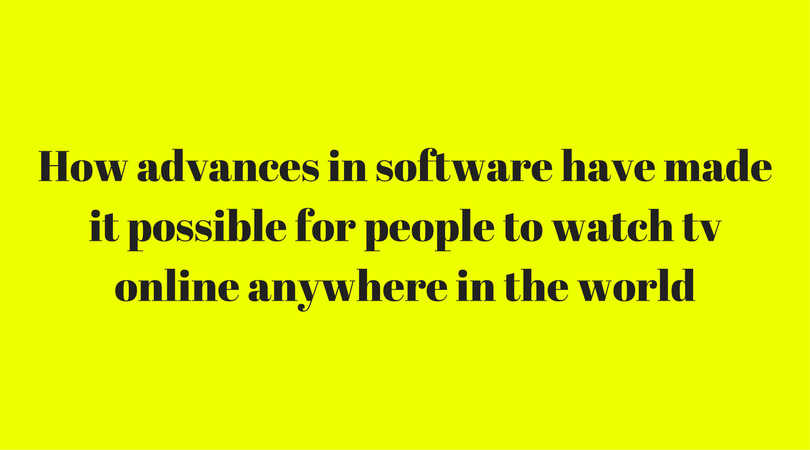 Technological advancement #1: VPN
Have you ever wondered how it was possible to be able to watch tv from anywhere in the world? Companies such as Netflix, Hulu, and BBC iplayer do not openly allow users to access content using a VPN or Smart DNS and they do have the right to kick you off of their programming if you get caught.  However, VPN and Smart DNS are important to mention as they allow for access in areas that would not otherwise permit it. A VPN is a virtual private network that connects you to the internet in a private domain. This means that your web connection will go directly to the VPN and bypass Google or other search engines you may choose to use. A VPN makes it challenging for anyone to see what you are doing online. VPNs protect your data and prevent hackers from stealing your information if you are out working in a coffee shop, for example. Using the privacy of a VPN is particularly helpful if you have a desire to watch a specific show in a country in which the show is not permitted. While it is still risky as you could face consequences should you get caught, a VPN makes it possible to watch shows online no matter where you are in the world. Keep in mind that using a VPN can slow down your internet speed.
Technological advancement #2: Smart DNS
A Smart DNS or a domain name server is not as private as a VPN but it is still helpful in allowing you to watch tv from anywhere in the world. A Smart DNS will make it appear as if you are in another part of the world as a disguise, however, it is not completely accurate every single time. The reason for this is that a Smart DNS only routes some of your information around firewalls but not all like a VPN can.
Technological advancement #3 Use apps
Using apps is a great way to connect to tv, games, and news outlets without having to stream online and risk having your information stolen if you are in an insecure area and are not connected to a VPN. Using apps such as Netflix or software dashboards such as Getflix is an easy way to access television content from anywhere in the world. Without the advancements in technology in creating the ability to have apps, watching tv on your mobile device would be obsolete.