There are certain distinct qualities that you should look out for when picking out a good data recovery software. However, these qualities might not be that apparent at an initial glance. Good news is, the Computer Fixperts have conducted a thorough analysis of the top-ranking data recovery software and have made a conclusive report. This not only saves you the hassle of doing the research yourself, it also allows you to see which software suits your specific needs. You can review report here.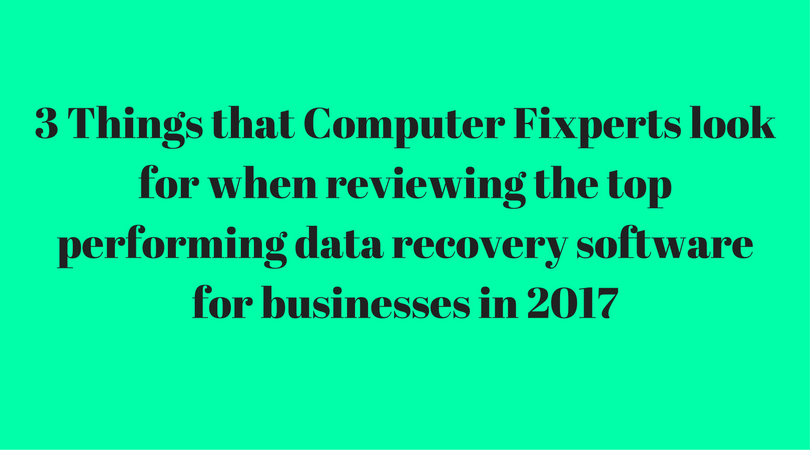 Computer Fixperts check these 3 things when reviewing data recovery software for businesses in 2017:
Performance
Choosing from the top data recovery software is no small feat. The first thing that Computer Fixperts check is the performance of each particular software. A good data recovery software ought to perform exactly as described – it should recover photos, documents, videos and a variety of other files. It should also recover those files that have been lost or corrupted from a hard drive, SD card, USB drive or DVD/CD. The software shouldn't have too many compatibility issues. It should also be able to function perfectly when installed on your machine.
Another issue that must be checked is the frequency of software updates. A good data recovery software for businesses must have constant auto-updates to ensure that you're at par with the latest features. In addition, it should be compatible with different versions of Windows Operating System.
Features
Almost all data recovery software is designed to recover different file types. These include deleted photos, files, videos, songs and Microsoft Office documents. If a software meant to recover data doesn't meet these primary criteria, don't rely on it for your official duties. Tech support is another important feature that the Computer Fixperts consider before giving any data recovery software for businesses in 2017 the green light. The most exquisite software programs are those that have a dedicated team of online tech support. The team should provide solutions to any problems/queries raised by customers.
The biggest question on many people's minds is whether data recovery software offers free trials. Delightfully enough, they do! That's just one of the perks of buying a reputable data retrieving software. Another important feature is the price. Although some software might allure you with their cheap price, they may prove to be disappointing once you actually use them.
Ease of use
A good data recovery software for businesses shouldn't be complicated to use. The user-interface should be friendly enough for anybody to navigate. Buying the software online and downloading it to your computer should be simple and straightforward. Data recovery needs to be an effortless process. Similarly, the software you use to recover lost data should simplify the process rather than make it a nightmare. The comprehensive report prepared by Computer Fixperts shows you which software is easier to use. So don't just buy any data recovery software, purchase a high-performing software that is easy to use.