WordPress probably is the best solution today for online publishing. It is flexible enough to publish almost anything. Companies are using WordPress for Online Magazines, Static as well as Dynamic websites, Directories, Job Boards, Portfolios, Blogs and even Ecommerce websites. A decent number of Ecommerce websites are using WordPress's WooCommerce plugin today. WooCommerce is a high-quality open source e-commerce plugin for WordPress developed by WooThemes in 2011. Online Merchants of all shapes and sizes are using this plugin to sell their physical as well as digital products.
WooCommerce is quite stable and is in active development since its launch in 2011. WordPress has always been a great tool for online content publishing. Now with the advent of WooCommerce, WordPress is making its presence felt in the e-commerce space.
As most of the online merchants are familiar that there are additional features that Ecommerce website must possess compared to regular WordPress websites. Following, we mention three such must-have features for every e-commerce website.
The first and foremost requirement is a secure website along with a valid SSL certificate. This is probably the first thing that visitors notice about an e-commerce store.
The second requirement is the machine power that you get to host your WooCommerce store. Usually, WooCommerce stores are more resource intensive. Also, WooCommerce stores should be prepared for sudden traffic spikes (like in the holiday season or due to the successful marketing campaign). We need enough power and capacity at our disposal to handle such spikes. Technically, we are referring to the compute power i.e. RAM and Storage space i.e. Harddisk.
Lastly, your hosting provider should be able to provide the best possible support 24/7. This is very important. An e-commerce store's issues must be fixed in a matter of hours if not in minutes. Every minute lost for an e-commerce store is actual money lost.
Considering the above three points, in this article, we mention top 3 hosting solutions available today for your WooCommerce stores; we will mainly talk about the base plans provided by these providers but will also mention other important features wherever necessary.
Fastcomet
Fastcomet is probably one of the best companies which are providing WordPress hosting today. They have everything a WooCommerce Store needs. There are a good number of reasons that Fastcomet is placed at the number one spot on this list. We walk through the most notable features of Fastcomet below: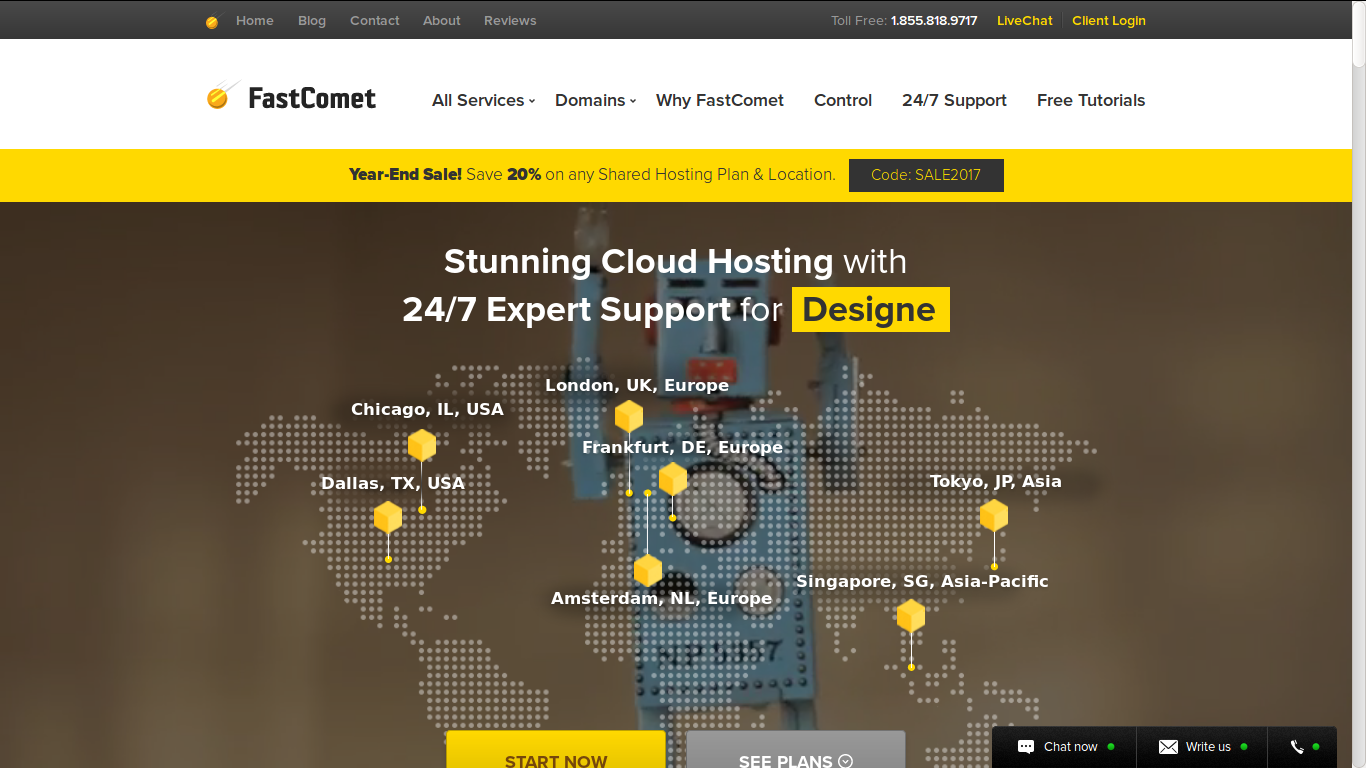 They provide 24/7 quality support. This is probably the best part of Fastcomet. They have a live chat embedded on each page of their website. They also come with 1-Click App Auto Installer, Drag&Drop SiteBuilder, and unlimited Email Accounts along with Daily Free Backups.
They run only on SSDs, sites come pre-configured with Cache systems like Memcached and Varnish. They have data centers in different parts of the world; two in the USA, three in Europe and two in Asia. They are running on PHP7 which is blazing fast compared to previous PHP versions. Any Geek will understand how important are all these factors to a site's speed and performance. This shows their commitment towards the performance of the WordPress sites which they are hosting.
The pricing starts at $3.95/month. You can move your existing domain or purchase a new one with them, just like any other provider on this list. They'll provide you with a free SSL certificate with dynamic seal, free Cloudflare CDN service, hosting guard security, unlimited FTP accounts, unlimited databases and unlimited sub-domains.
Fascomet comes with 45 days money back guarantee.
The complete list of Fastomet features can be viewed here.
BlueHost
When it comes to experience and maturity, there is no better WordPress hosting company than Bluehost. They are the web hosting business since 2003. Bluehost is one of the largest web hosts today. They are reported to host over 2 million domains on their combined network of companies. Bluehost is well established, reliable and trustworthy. Just like Fastcomet, Bluehost provides 24/7 support. Fastcomet comes with an option to host websites on SSDs. As reported by Web Hosting Media in their review of Bluehost WordPress hosting, 24/7 Support which is quite crucial for every e-commerce website is provided by a well trained in-house staff of Bluehost. This shows the commitment of the quality service that Bluehost thrives to provide to its customers. Following, we mention the most notable features of Bluehost: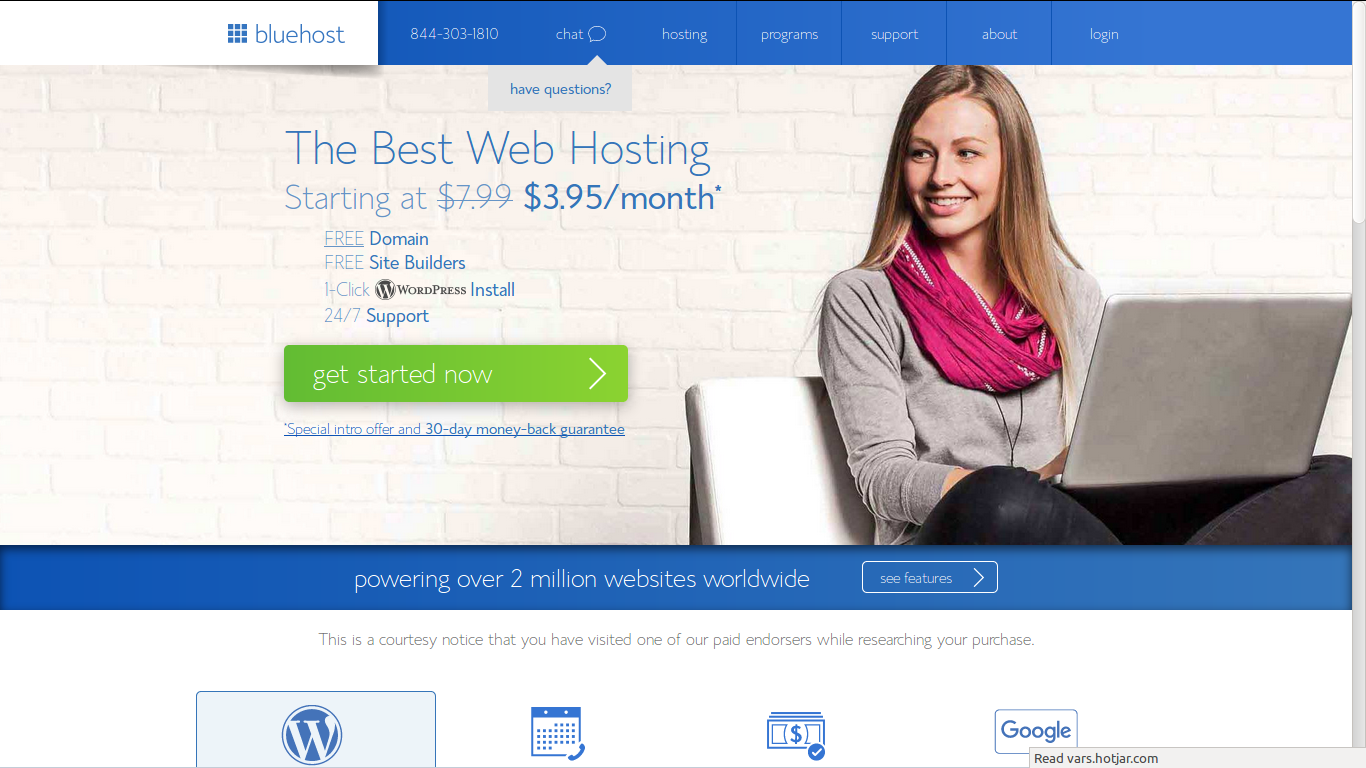 Bluehost comes with free domain and free site builder tools.
They provide 24/7 support. All active customers of Bluehost get quality support for their sites.
Just like Fastcomet, Bluehost comes with One-click WordPress Install.
The base plan starts from as low as $3.95/month.
50GB disk space is provided by Bluehost in its base plan. Fastcoment is providing 15GB under its base plan for the same price. This is a huge difference between the two services.
Bluehost allows 25 sub-domains, 5 email accounts and 100MB storage for each email account. This can be a restriction for some users.
Bluehost does not provide free SSL certificate in its base plan. You will have to upgrade to their Go PRO plan for an SSL certificate which will cost $13.95/month.
The complete list of Bluehost features can be viewed here.
Siteground
On number 3 on our list is SiteGround. This company was founded in 2004. Siteground is a mature company and is reported to have 400 employees. They are leading providers of Shared Hosting, Web Hosting, and Enterprise Hosting. The base plan is $3.95/month. The good thing is that they provide SSD storage on their base plan. We have come across the following best features of Siteground Hosting: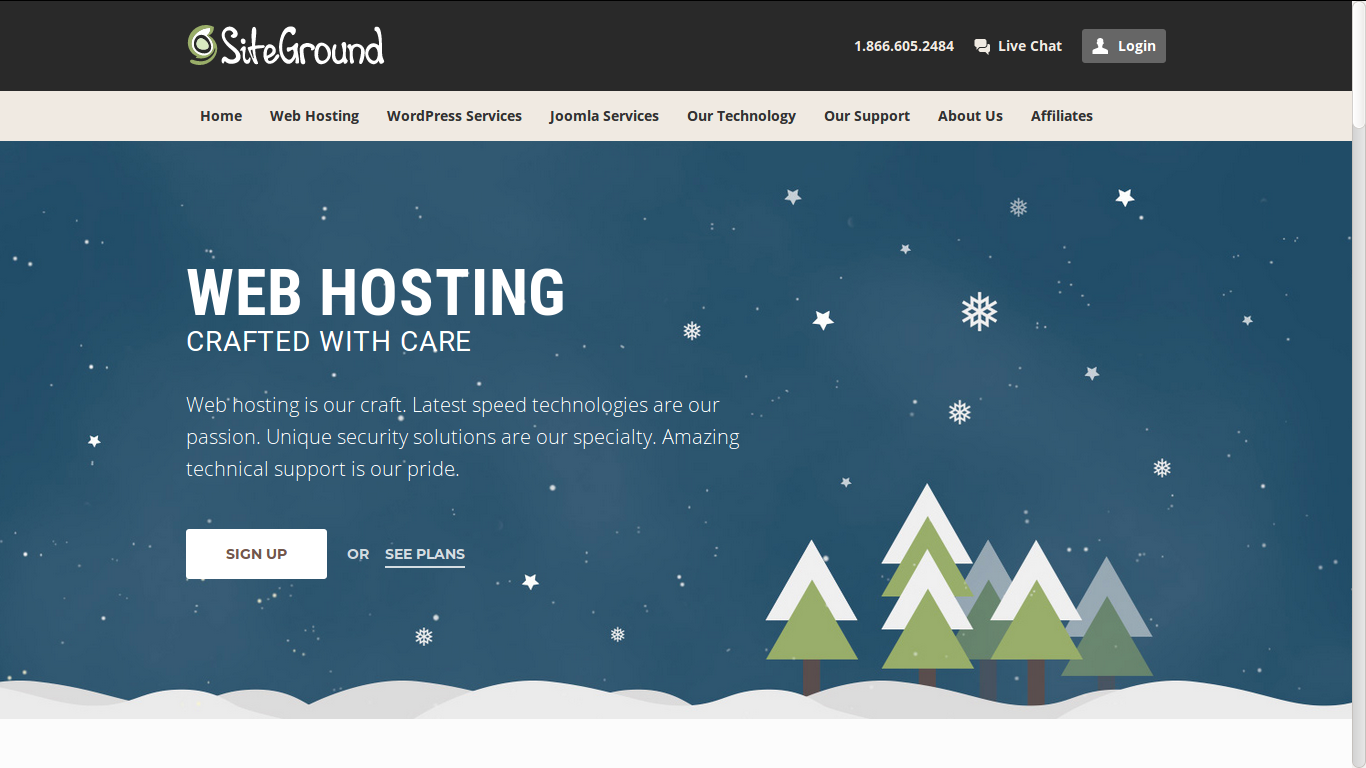 They provide 24/7 Technical Support just like Fastcomet and Bluehost.
Just like Bluehost, Siteground comes with 30 Days money back guarantee.
Siteground provides free SSL certificate for all sites hosted by them.
Both SSH access and cPanel accesses are provided.
Just like Bluehost and Fastcomet, the company provides Free Daily Backups.
Siteground provides 10GB web space under its base plan.
Siteground provides unlimited MySql Databases.
The complete list of Siteground features can be viewed here.