WHAT IS WIX?
For a long time, Wix has been considered the best website builder on the internet. Wix launched in 2006 after raising more than $60 million in venture capital, and now they provide services to more than 35 million websites over the globe. In the beginning, they started the platform on Flash but later they changed it to HTML5.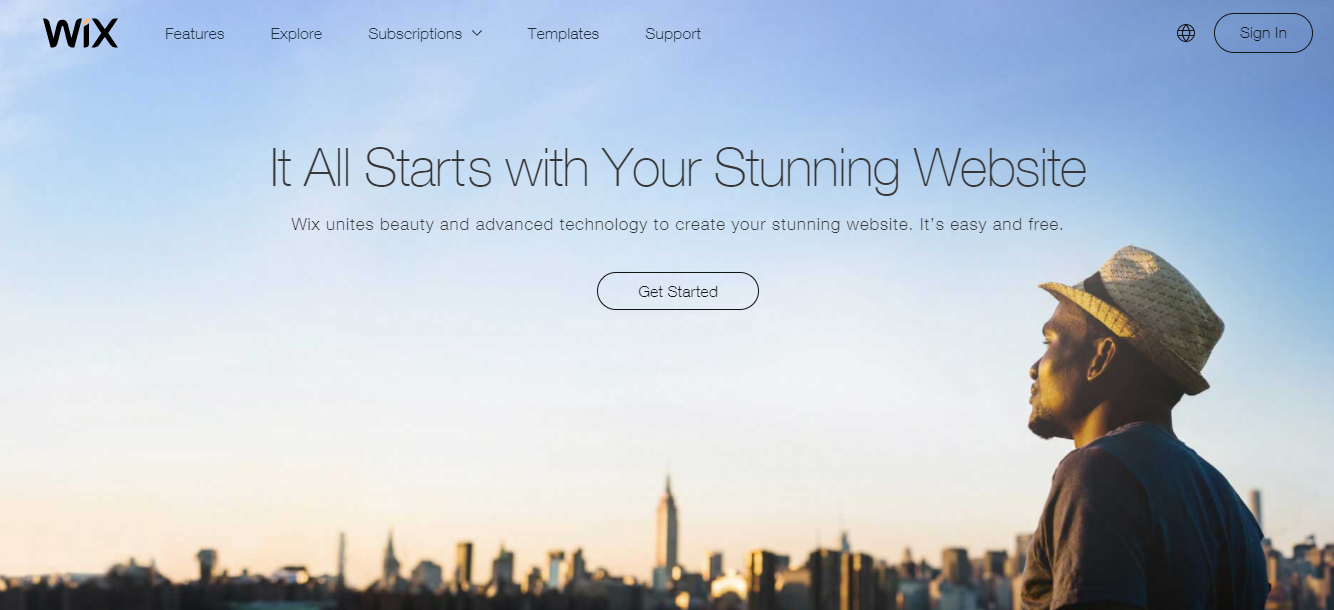 WHY WIX?
In my opinion, Wix is the cleanest and easiest website builder available on the internet, it comprises of WYSIWYG – What You See Is What You Get editor, that makes the drag and drop feature best among others. You can move and resize any virtual object anywhere you need. In Wix you can place elements anywhere around the page. You can also animate the text, and you can make responsive web pages, which is another great feature of Wix websites.
Being the most user-friendly platform around, wix offers its services to various niches including agencies, photography, freelancers etc. The drag and drop tool makes it really easy to build web pages with almost no web development knowledge required.
WIX Artificial Design Intelligence – ADI
Wix will never leave a chance to impress you, it uses artificial intelligence to make innovative web pages without any web developer. You don't have to build anything, ADI will do everything for you! It's really easy to operate ADI, you just have to enter any website or social media profile to extract content and information from the given sources. It works accurately without any errors, and you just have to hit publish button to see it online. You just have to make little human enhancements to the page, and you are ready to go. It saves 90% of your precious time.
VERSATILITY
Wix is really versatile when it comes to features. You can create a variety of different types of sites, and you can add a huge range of apps to further customize your site. You can grab some apps from the Wix App store to enable good features like live chat and newsletter widgets, which is hard to compile from scratch. The main reason why Wix is so versatile is that anyone can use it. There's no need for knowledge of coding. Photographers, ecommerce, freelancers, bloggers anyone can use Wix to make cool websites.
SEO
E-commerce or Blogs, every website needs SEO, and Wix is best at it. You can find some quick and interactive tutorials on this topic which will help your Wix website in Search engine rankings. You can easily add and edit your page titles, keywords, and your descriptions, to make your rankings improve. If you want a great hands-on guide, then we recommend adding the Wix SEO Wiz app from the App Store to get detailed instructions for on page-SEO and keyword research.
USING WIX FOR ECOMMERCE
There's no doubt that Wix is one of the easiest ways to create an online store. You can easily manage your stock, you can create a captivating landing page, and you can interact with your customers. You can turn your dream job into a reality using Wix's intuitive platform. Another huge bonus is that Wix does not take any commission from your sales – meaning more profit for your business. There are hundreds of templates and themes to choose from, and you can start creating ecommerce website with easy drag and drop tools without any tech skills.
You can easily customize each and every page included in the store. There's a wide range of language and currency support in the shopping cart area which makes the user experience really comfortable.
Wix provides everything required to run an ecommerce store, from setting up the products, shipping elements and discount rates, coupon codes, shipping rules everything is included in there. You can also make your site international by applying tax rules for specific locations.
ADVANTAGES OF WIX FOR ECOMMERCE
If you purchase any plan for 1 year, you get a free domain. There are a lot of beautiful templates to pick from when you are ready to configure and publish your ecommerce store on the internet. If you run into problems along the way, you can also contact customer support. The support team at Wix is ready to help you, and they have a huge selection of already answered questions on their support page for quicker results.
PRICING
You can check the pricing of Wix on their official website. They provide monthly, annual and biennial payment options. Paying yearly gives you a huge benefit over the monthly plan which includes the form builder, site booster, free domain and other add-ons.
WRAPPING IT UP
So, this was everything about Wix. You can use it to create beautiful ecommerce websites and start enjoying your online income with the help of Wix the website builder.