I had promised Amit that I was going to write a guest post for his blog for a while now, but being taken in the web of my online business, I just couldn't free enough time to think about what I wanted to write, and more importantly what topic would fit the theme of his blog.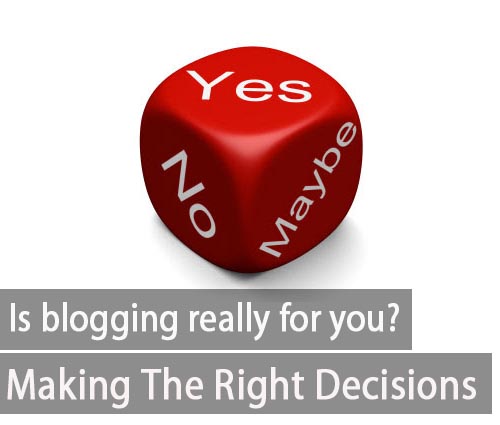 Nowadays, very few themes if at all haven't been covered yet, and it's all about telling the story YOUR own way that makes your content may be more attractive or even more valuable than someone else's.  Most people who have a blog have already written about blogging, no doubt about that, but what makes it interesting every time is that each is telling their own specific story about blogging.  We all have a different story and a different WHY.  The question you need to ask yourself if you are not sure is why am I blogging?
In this post I am going to tell you why I am blogging, briefly, so you could use my own example to help you decide what you could be blogging about.  I also would like to help you if you are already blogging, but can seem to be able to move forward with your blog or maybe find it difficult to blog on a regular basis.
Why am I blogging?
When I first started to blog I was strictly blogging to sell affiliate products.  While there is nothing wrong with that, it did tire me out.  Some people would want you to believe that it's easy to write once a week about a product that you don't know much, but the truth is that it's not.  If you are not passionate with the product you will eventually get tried trying to promote it.  Unless you develop a true passion for such product and are using it yourself, so you can write about it days in and days out, it is not going to be easy to keep the machine going forever.
A little over a year ago, I decided to get rid of all my selling blogs and keep only three blogs that are directly related to what I do.  This is the best option I would suggest you to choose.  If you offer a service or a specific product, concentrate on that and blog about it.  As a matter of fact, you should be using your blog as a front store for whatever you are trying to sell, while not trying to sell in your posts.
What you need to do instead is help your readers with your content as much as possible.  We call this, giving value.  Your blog is a give and take. You give value with your posts while your blog becomes the vehicle for your business.
What should you blog about?
What you should blog about depends to a very large degree on what you want to accomplish and what your online business is.  For example, a lot network marketers blog about various facets of online marketing that are related to what they do.  Freelance writers, such as myself, should have a blog related to writing.  However, it doesn't hurt to have another blog that could be related to a totally different niche, because what you are still showing through ANY blog as a writer is that you can write.  That's exactly what I do myself.
If you are interested in cooking, gardening, electronic, personal development, travel or anything else, you can use your interests and passions to be the back bone of your blog while you can use such blog as a platform to sell related services or other items.
Don't Miss : 5 Major Blogging Mistakes Not To Be Done By Newbies
What if you have a blog but are having a hard time blogging regularly?
If you already have a blog, but are finding it hard to post regularly (by regularly I mean at the very least every other week, but more ideally once a week) then, it probably means one of three things.
1. You are not blogging in a niche where you feel enough passion to write about often.
2. You are not prioritizing your blog as an important business platform.
3. Blogging might not be for you after all.
Do you really love what you are blogging about?
If you feel that you are not blogging about what you are really passionate about, you need to shop around and do some research or try to think about what it is that you REALLY want to share with the world.  What do you like? What makes you tic? What are you passionate about worth sharing?
Do you have a hard time prioritizing?
If you feel that you have no time for your blog, then you need to redefine your priorities, and decide to take your blog as a real business that you need to attend to each and every day for a specific amount of time.  The best way to do this is by setting a specific time where you are not going to allow anything or anyone to disturb you from doing your work on your blog.
Don't Miss : 5 Tips For Every Blogger To Stay Focused
Is blogging really for you?
If you are falling in the third category you will definitely know it rather rapidly by making sure that you understand all that is involved in having to maintain a blog year after year beside the fact that you have to produce original content on a regular basis.  Blogging and selling online is a real business and it takes time and dedication like any other business.  Be honest with yourself by weighing all the pros and cons and decide if blogging is really for you.