Most of the bloggers will suffer finding enough time to blog. The reasons being they're either not full time bloggers or most of the bloggers will be working somewhere. So it's always not possible to spend quality time on blogging. But you need to utilize your limited period of time to blog effectively.
Here are few time management tips for bloggers who don't find sufficient time to blog.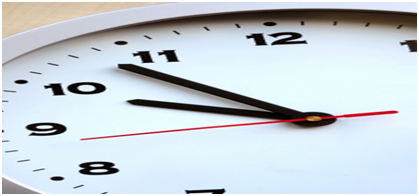 Do one task at a time: Don't do multi-tasking. Human brains don't work efficiently when they're doing several things simultaneously. So keep your focus on one task, if you're writing, just concentrate on writing. Don't open Facebook, twitter or Gmail while writing blog posts. It will destroy your productivity hence reduces your performance. So make sure you're not giving any pressure to the brain by multi-tasking.
Don't Miss : Know Your Tools: 7 Little-Known Features That Could Boost Your Gmail Productivity
Don't edit while writing: This is one of the biggest time wasters for any blogger. It will gradually increases the time limit that you spend on each blog post. Don't edit while writing. Writing is different, and editing is different. When you're writing, you can write great blog posts if you focus on "free writing". Editing comes in the next phase. Once you finished writing part, then become an editor and delete all the unwanted words from your blog posts to make it more appealing. This way you can easily grab your blog readers' attention.
Don't Miss : How to Avoid Getting Bored with Blogging ?
Be sure your surroundings are not cluttered: If your working environment is too good, it will directly creates an impact on creating great blog posts! If your surroundings are too much cluttered, you can't create quality blog posts, because you'll be easily distracted by something else. Don't eat in your working desk. This tip can give you tremendous results in the long run. Make sure you're working on a less cluttered and peaceful place. And don't work on bed (most people have a habit of working with their laptops lying on bed, this can easily eat your time). If possible consider giving a office look to your working environment. This may boost your online productivity.
Know your triggers: When do you work better and efficiently? Can you work with the background music? Or do you need an inspirational video before working? Know your "triggers" first. And apply them to work effectively.
Use distraction free writing tools: Use the distraction free writing tools like OmmWriter, CreaWriter, Zenwritteretc to stay focused while writing. Believe me, you can write faster blog posts when there's no distraction around you. So try those tools to work in a great way.
Don't Miss : 7 Great Sites To Increase Your Online Productivity
Take regular breaks while working: Don't force yourself too hard to write something. Take some breaks in between to work more efficiently. A research says that you can work productively when you take regular breaks while working. So be sure you're taking some regular intervals every hour. Get out of bed, laptop or your working environment and get some fresh air and water to work the best possible way.
Tell your friends and family not to disturb: This is very important. Tell your family members and friends not to disturb you when you're working. So try to maintain consistent schedule, so that your family won't disturb you while working. Because they can easily understand not to disturb at specific times. When no one disturbs you, it'll be a breeze for you to work or blog, agree?
Don't forget to enjoy: Go and get some drink. Or take a vacation with friends and family. Have regular hangouts at weekends. All these are important (essential) for those who're working online. Because we spend most of the time sitting in front of computers and can't spend much time offline. So whenever you get a chance to hanging out with others..don't miss it. You can work even better when you get some relax.
Do you have any more time management tips?? Do share them below.
[Image Credit : freedigitalphotos.net]