Social media marketing has become a huge part, if not the biggest part, of many marketing plans for businesses in every industry, large of small. Larger businesses often choose to employ their own social media marketing team in house, instead of outsourcing it. However, not every business can afford or needs their own marketing team. For small business in particular, this is why hiring a social media agency is becoming a popular option. Here are five important tips to help you hire a great social media agency: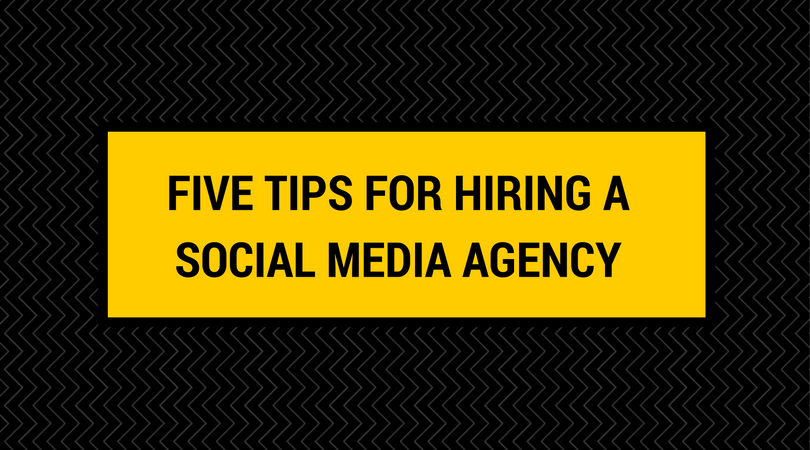 Find a True Social Media Agency
Marketing is both a trade and a discipline. It is a common belief that anybody with a Twitter or Facebook account with a lot of followers is great at social media marketing. While anyone can create a popular page, it does mean that they understand the marketing needs of a business. However, when you are looking for professional social media marketing, you should make sure you hire a professional social media agency.
You will come across plenty of people who will offer to undertake your social media marketing for you. Whilst they may know about social media, they will in no way be able to match the results that a social media can provide when it comes to social media marketing.
Look for Critical Thinkers
There are many factors that need to be in place to have a successful marketing plan. Good marketers know how to analyse, take risks, and create new marketing plans. They also know that social media marketing is an ongoing process and that results do not happen overnight.
When you are looking to hire a social media agency, you should ask the potential companies about their past marketing campaigns and what the results were. A good agency will have both successful campaigns and campaigns that have failed. They should inform you of what work they have done in detail, even if the campaign failed. They will also be able to tell you exactly what works for your industry and later down the line, your business in particular.
Avoid Social Media Celebrities
Social media celebrities can be useful to market your business, but you should not hire them to create a social media marketing plan. Social media celebrities are focused on their brand to the point that they cannot adapt their voice to match yours. If you are going to hire a social media celebrity, you should take a critical look at their work.  You should be able to see how they have built their followers and their engagement rate.
Stay Involved
Once you have hired a social media agency,you should spend some time with the agency talking about what your company is looking for from the marketing. This helps the marketers know what you are looking for from your marketing and who your target audience is. It is important to stay involved with the work they are doing, not just because you don't want them doing something you are not happy with, but it allows you to stay up to date with the strategies they are using and it allows you to monitor how your businesses online presence is growing.
Execute the Marketing Plan
Executing a marketing plan is the most important part of actually growing your social media presence. You need to be fully committed to your plan and make sure it is complete before starting. Social media marketing takes both patience and know-how in order to be successful. A good social media agency will look at your past posts and will determine what you have been doing right and wrong. At the same time, they should also be creating a new plan and executing it. You should have clear goals for your social media marketing, so the agency knows what results they are looking for.
Social media marketing is an important part of a good marketing plan. There are many companies that provide social media marketing services. Hiring a good social media agencycan save you money on your social media marketing in the long and can really help your business grow.