You can see many new rivals in the email marketing software world, SendPulse is one of the best product among the competition, offering great features with prior support. There are a lot of awesome features which will help you to get more engagement for your business or website. The AI platform is well built which will automatically personalize stuff for you, where you can maximize the open rate of email.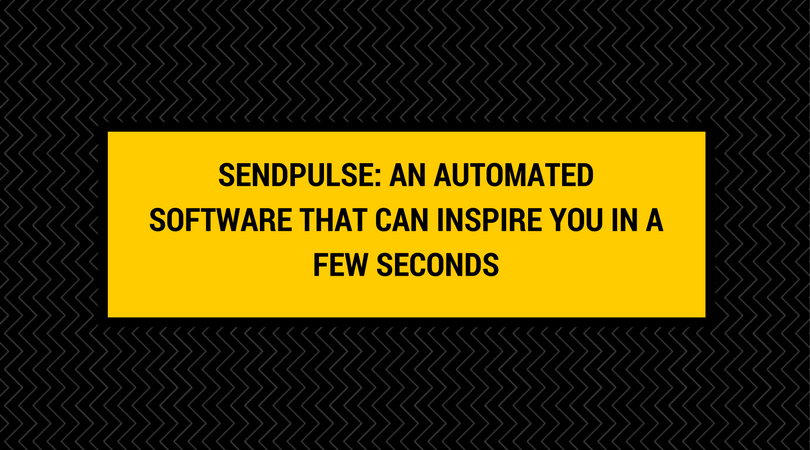 Sendpulse is your one-stop for all needs of bulk email, SMS and push notifications. You can try the services with free web push notifications. You can use all the three features together to increase engagement and get more returns. SendPulse will help you to handle all the complex tasks with their simplicity, this makes it best among other competitors such as MailChimp and GetResponse.
Here is the review of SendPulse where I have summed up little things which I found useful and better than others, I'll also discuss the features, pricing and the support in this review.
Pricing
SendPulse is best in the pricing part. You can send free emails if you have less than 2500 subscribers (up to 15,000 free emails in a month). The pricing is easy and the plans are flexible.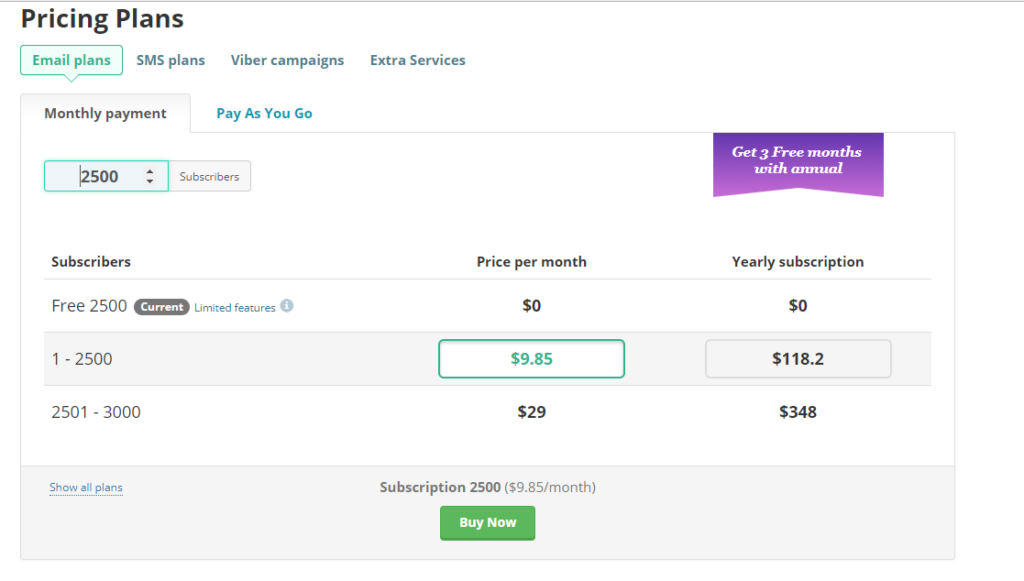 You can opt for the Monthly subscription which starts at $9.85 for your subscribers. There is a pay as you go plan which is prepaid and you can send 10,000 emails at $32 only and the price per mail goes down for bulk or large orders. You can find more about the pricing from their website.
The SMTP service starts from 8.85$ a month for 25,000 emails, there is a monthly subscription and pay as you go plan too.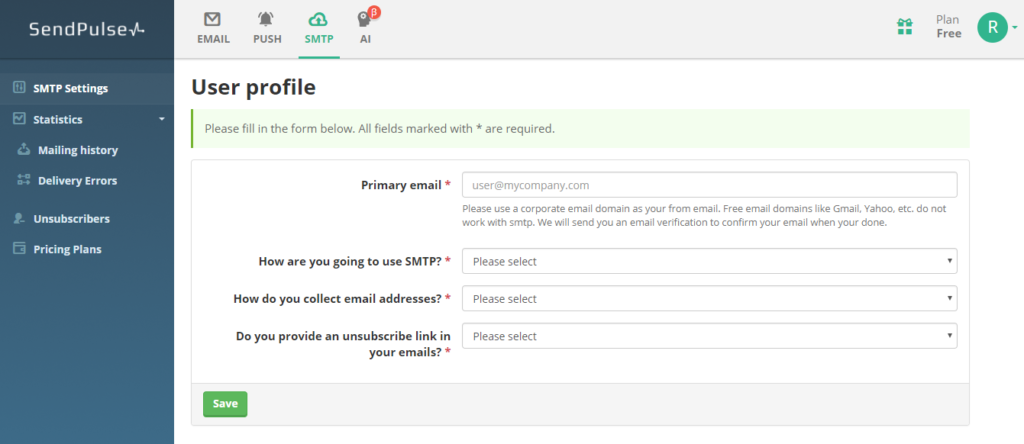 You can contact via chat, email, skype or call for VIP Plan for your subscribers if you have more than 1 million subscribers.
Easy to Use
The dashboard of SendPulse is user-friendly and it is easy to use. This is the best part for newbies because a complicated system can create issues while configuring the email service.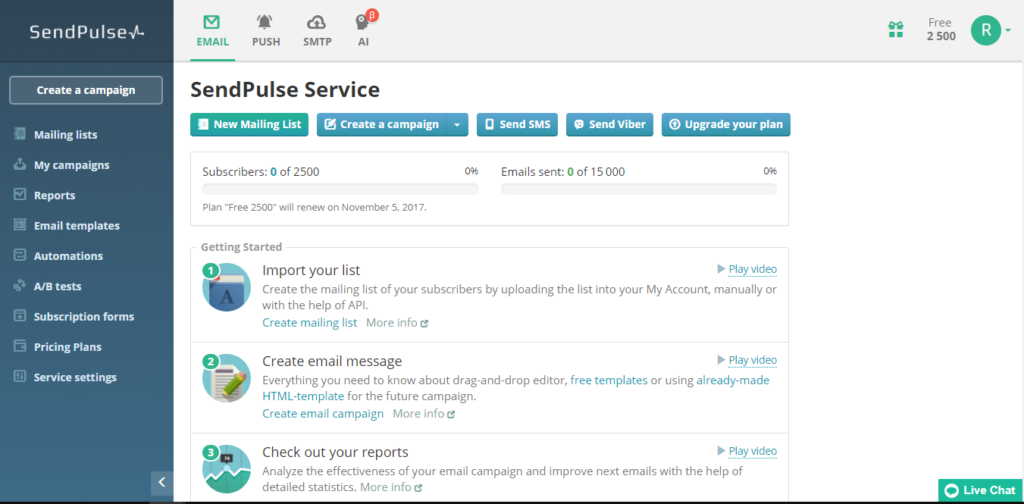 The signup part is really easy, you just have to enter the basic information followed by the confirmation code which you received in your email and after that, you are ready to go. If you have a small blog then you can use the free email service to start with your subscribers.
Features
For me, SendPulse is the best email marketing tool for a newbie and for professionals too, I was pretty impressed by the basic level tools such as predefined email tools and other stuff which will help a newbie to grow the sense of sending emails to increase conversions.
SendPulse is based on Artificial Intelligence (AI) Which will help you to grow your audience with simple hacks and awesome features. It was in the top 3 in The next web-scale program (2017).
Some other features which I loved are mentioned below.
Autoresponders – Basically automated emails, the best way to increase your email subscribers. You can try this feature under the free plan, you won't get the same for free from competitors. If you are new to blogging then you can try this awesome feature by SendPulse.
Easy Integrations – SendPulse will set itself with more than 500 services such as WordPress, WooCommerce etc.
Analytics with Mobile App – In the world of miniaturization, SendPulse helps you to track and make reports of your campaigns from the Mobile App. this includes Open and Click rate, charts of clicks, geographical stats, and error reports too.
Support – The support is great here, I contacted them using the live chat option to solve few of my queries and they responded well. The staff is trained and they are concerned for you.
Wrapping it up
This was a quick review about the SendPulse, you can grab the required package and increase your audience easily. The free plan is enough for a newbie which have impressive features. You can try it out and inform us with the results in comment section below.