4 Ways to help you Focus on Blogging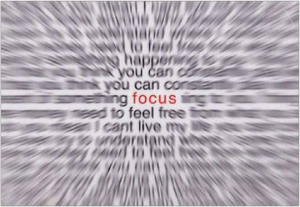 Most of the bloggers in addition blogging, they have other works (schools, agencies …), not to mention the work other individuals (friends, family …), so balancing everything seems too difficult.
In fact, if not well planned, blogs will be affected first. Sometimes if you see a mess, you will want to remove blogging.
Maybe this is a mistake, because blogging is a great marketing tool, expand the network of contacts, and establish expertise in your field & more.
Therefore, you should have a plan to focus on your blog. Even personal life has occupied most of your time. So, there are 4 ways to help you do that.
1. Focus on Core Activities
You can try doing this: Post on your blog, develop it, build links and promote on Twitter, our Facebook fan pages created, RSS reader, create eBook …
If you haven't much time for your blog, focus on key activities. One of the main problems is to build the content, if you have less time, you can use it to write a little.
Try to write articles and develop it, your blog will develop naturally, and you can regain your balance.
2. Interested in Your Blog
You need to have fun with your blog, otherwise you will lose motivation to develop it.
Please choose a problem of your concern. If you write just to make money you would have no interest whatsoever. Furthermore, there should be delineation between what you like to write what readers like to read. Do not skip too many objects, otherwise you will lose the motivation to write.
3. Development Strategy
You can't improve the results for your blog when you have no direction, and you cannot get motivated if you don't thinks of a way to improve.
That is why these are important milestones. They allow you to track the progress of your blog, and once you see everything is getting better. You will be motivated to continue working on the blog.
Examples of important events you can set for your blog:
* Reached 500 or 1000 page views daily.
* RSS subscriptions reach 1000.
* Each article will receive 20 responses.
* Alexa's top 100,000 within a month.
4. Monetize it, Why not?
Whether you like it or not, remains a strong source of motivation for human activity. If you don't intend to make some money with your blog, you may have lost a source of motivation to help you work more efficiently, maybe you should put some ads or affiliate links around (as I did).
Don't hope you will get rich overnight, but I am sure that even $100 monthly would give you an extra incentive to write on your blog. Apart from the immediate results, you will see its potential in the future. You will realize that your blog can produce real money when you publish good articles over there, and you will make more money.
Conclusion
Try to do everything I mentioned above, it can help you quickly develop your blog, but it will quickly kill you (understood in some way). If you don't have much time for blogging, you should only focus on the core. The content of the articles is the most important points you should consider. If you have little time to build your blog, you should be only interested in content. You should not be too much attention to other things that I mentioned above. Make this way over time, if you write great content, and you have a large amount of content. It will promote your blog will grow naturally.
"Hold your enthusiast fire when blogging". It will help you do more, have more, save more and change your life.